Europe
French rally in support of family values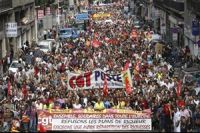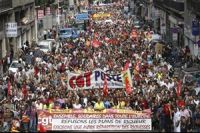 Tens of thousands of people have marched in France in support of traditional family values.
According to reports, people in the French capital Paris and the eastern city of Lyon took to the streets on Sunday to protest the government's new laws that ease abortion restrictions and legalize same-sex marriage.
Demonstrators accuse the government of President Francois Hollande of having family phobia and feeling relentless against the family.
They also want the French government to scrap an experimental school program aimed at combating gender stereotypes.
The action has been organized by anti-gay marriage movement "La Manif pour Tous" (Demonstration for all).
The march comes a week after an anti-government rally dubbed "Day of Anger" ended in clashes between police and protesters in Paris.
Thousands of French protesters attended the mass rally on January 26 in order to show their anger at Hollande's presidency.
The popularity of the 59-year-old president has been hit by his government's spending cuts and a failure to tackle record unemployment levels in the European country.
According to a survey carried out by French Institute of Public Opinion (IFOP), Hollande's approval rating has dropped to 20 percent.
The survey, published by the French weekly newspaper Le Journal du Dimanche in November last year, found that the reported 20-percent popularity rating is the worst level recorded for a French president since the poll started in 1958.
A recent poll, conducted by Ipsos-Steria and published by the French newspaper Le Mond, also indicated some 85 percent of respondents were convinced that France is currently in a state of pessimism.