General
French strike over pension age reform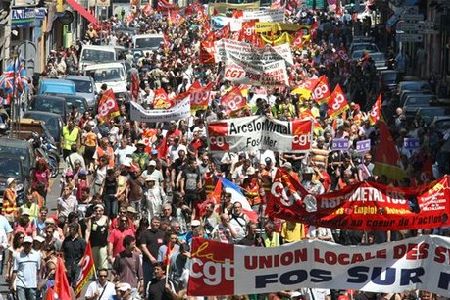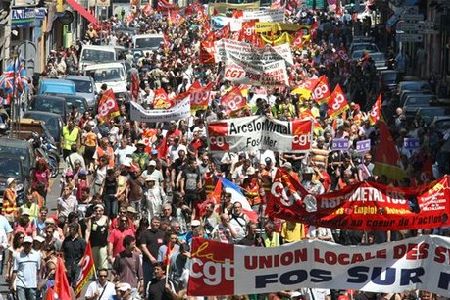 French unions gear for a nationwide general strike to protest President Nicolas Sarkozy's proposals to raise minimum retirement age from 60 to 62.
Public and private sector workers in France plan to stage a 24-hour strike on Tuesday which is expected to hit public transport, banks, air traffic and the postal service.
Hundreds of thousands of people are expected to take part in the 190 marches planned in cities across France.
"We may have an exceptional day and, if it is exceptional, we will perhaps be at a turning point," AFP quoted Bernard Thibault, the leader of General Confederation of Labor, as saying to France Inter radio on Monday.
The strike date falls on the same day that Sarkozy's embattled Labor Minister Eric Woerth presents the pension reform bill to the parliament.
The pension plans, which are a cornerstone of Sarkozy's economic reforms, would also lift the age for full pension payments from 65 to 67.
That would affect five million civil servants, many of whom retire at the age of 55, and would target the bonuses and the tax breaks that provide pensioners with a higher standard of living than ordinary workers.
According to the national pensions advisory council, if the system is not changed, France will face a huge public deficit of between 72 billion to 115 billion euros by 2050 and that is with optimistic assessments of the recovery.
State railway operator SNCF said that just two out of five of its high-speed trains are expected to run on Tuesday, with reduced service on many other lines.
France's civil aviation authority also said up to a quarter of flights into and out of Paris airports could be cancelled or delayed, although long-haul flights will remain largely unaffected.
Meanwhile, hundreds of secondary school teachers went on strike on Monday, protesting against plans to slash 7,000 jobs in education.
The proposals and the recent deportation of about 1,000 Roma have lead to widespread protests across France.