Europe
French unions vow to step up industrial action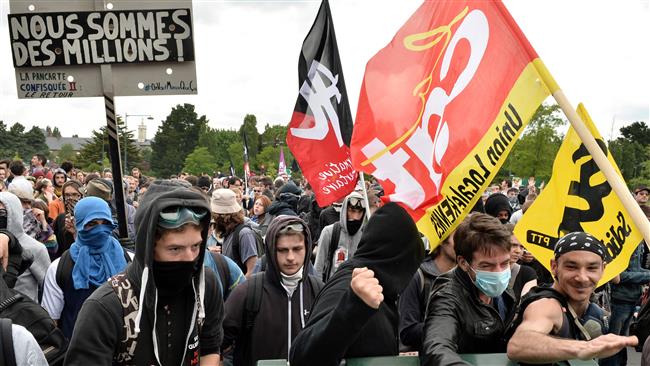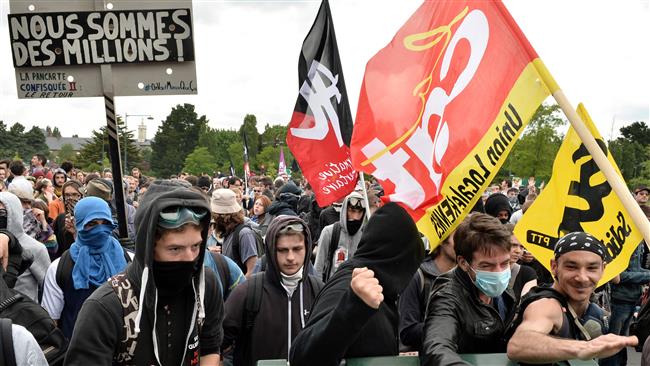 French unions call on workers to "step up their action" after police and protesters fight pitched battles in Paris and other cities amid an industrial unrest.
The country is now teetering on the edge of a paralysis with oil refineries, nuclear power stations and transport hubs remaining shut after days of blockades by union activists.
Unions issued a joint statement on Friday, urging protesters to "multiply and support" industrial action against a disputed labor law which Prime Minister Manuel Valls insisted will not be withdrawn.
Over 153,000 people took part in nationwide demonstrations held on Thursday, according to police, but the General Confederation of Labor (CGT), which is leading the strikes, put the number at 300,000.
Riot police battled it out with clubs, rocks and bottles in Paris, Lyon, Bordeaux, Nantes and other cities, making 77 arrests, while 15 officers were injured and cars and shops were vandalized.
A march from Place de la Bastille revived the memories of France's bloody revolution of 1830, with tear gas fired to contain protesters.
Tear gas and baton charges were used as crowds of masked youths chanted "Police everywhere, justice nowhere."
Up to 40 percent of France's petrol pumps have run dry as five of the country's eight refineries remain at standstill or operate at reduced capacity, forcing the government to start using its strategic oil reserves.
Motorists across France are already queuing for petrol, or desperately trying to find service stations that are open.
Transport system is at a state of paralysis as dock workers around France have joined in the protests. Many ports are blockaded and protesters are also blocking bridges and roads.
Flights to and from Paris, Nantes and Toulouse were affected on Thursday, and a rolling strike by train drivers brought further disruption to regional and commuter rail services.
Furthermore, there is the threat of a crisis from electricity shortage amid stoppages at nuclear power stations.
The industrial chaos comes as thousands prepare to arrive in France for holidays as well as for the Euro 2016 football championships early next month.
Paris is already in a state of emergency after November's deadly attack by Daesh which left at least 130 people dead.
The unrest has been triggered by a raft of labor reforms, which make it easier for companies to hire and fire staff, with the government saying they are needed to bring down unemployment.