Europe
French yellow vests hold national assembly ahead of first anniversary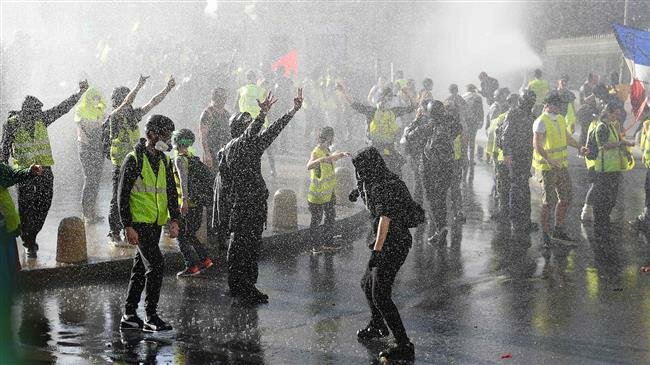 Delegations from across France have gathered in a southern city for a national assembly to discuss the future of the Yellow Vest Movement, almost one year since it first started.
Ahead of the first anniversary of the movement, some 600 organizers from across the country gathered in Montpellier on Friday for a debate on the future of the protests.
The Yellow Vest protests erupted in November 17 last year across France in response to President Emmanuelle Macron's economic plans. Ever since, the country has been the scene of street rallies, which on many occasions prompted security forces' violent repression and mass arrests.
The protests forced the government to put its reform program on pause and refocus on cutting taxes for lower-income households, after he eased the tax burden on businesses and investors in his first two years in office.
Some 200 delegations are expected at the assembly in a former museum, which will include a series of workshops to discuss issues such as how to respond to heavy-handed police tactics or how to work with other protest movements.
The gathering, which goes continues until Sunday, "shows the extent of the yellow vest movement," said a delegate from Lille.
"We need to do something that stands out" to mark the date, said another delegate from Grenoble.
"We started out amid heavy repression… with a sense of urgency to solve problems. Now is the time for longer-term work on a solid base," said Christophe Chapuis, the assembly's designated spokesperson.
Protesters accuse Macron— the youngest president in French history — of ignoring the day-to-day struggles of ordinary French people.
Two-thirds of the French, according to a recent survey, believe that the president has been doing little to improve their quality of life in his first two years in office.
The poll, conducted by the French news channel BFMTV, say 55 percent of respondents said they were "disappointed" by his actions as president.
Some 71 percent of those polled said that Macron's tough social and economic policies had not helped "transform" France as promised.
Some 62 percent also see Macron's election in May 2017 as a "negative" event, compared with 37 percent who said it had been a "good thing" for France.
The poll also cast doubt over Macron's chances of winning a second term in office. Only 39 percent of respondents said he would be re-elected in 2022.