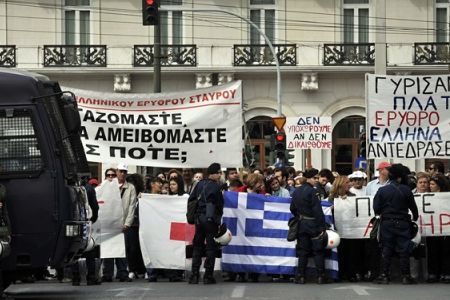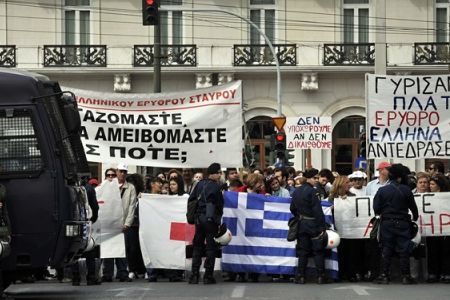 As the Athens government wraps up a meeting with creditors to secure the next bailout payment to prevent a default, Greece becomes the scene of fresh anti-austerity strikes.
Municipal workers and teachers on Tuesday staged a walk out, while civil servants blocked the entrances to a number of ministries.
Moreover, bank and hospital employees as well as prison guards are planning to go on a strike in the coming days. Several of the country's lawyers have also said they might join the strike, a Press TV correspondent reported.
Trash has filled the streets in the Greek capital as garbage collectors have since last week refused to work in protests against the government's latest attempt to implement more austerity measures.
Debt-ridden Greece runs a high risk of running out of cash in mid-November should it fail to convince European Union (EU) and International Monetary Fund (IMF) creditors that it can meet the 2011-2012 budget deficit reduction targets.
The EU and IMF are expected to determine whether to grant Athens the eight-billion-euro package by October 24.
The installment is part of a EUR 110 billion bailout package authorized by the EU, IMF and the European Central Bank in 2010.
Earlier in the month, Greece submitted its 2012 budget draft, in which it predicted a deficit of 8.5 percent for 2011, well below the initial 7.6 percent target agreed upon.
The forecast also expects the country's 2012 deficit to stand at 6.8 percent of the GDP, short of the agreed 6.5 percent.
A default in Greece could cause domino-style defaults in other debt-ridden eurozone countries such as Italy.
Workers union, the Civil Servants' Confederation (ADEDY) announced earlier in the day that they would stage a general strike on October 18-19.
The second day of the strike coincides with a 24-hour strike, which the country's largest workers union, General Confederation of Greek Workers (GSEE), had already called for.