Fresh clashes erupt in Hong Kong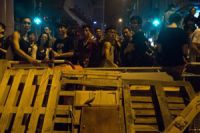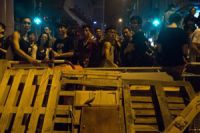 Hong Kong has been the scene of fresh clashes as riot police used batons and pepper spray to disperse anti-election law protesters.
According to IRIB, on Sunday, tens of thousands of people flooded into the Admiralty area of the city center in the biggest gathering for days.
Scuffles also erupted between anti-election law protesters and their pro-Beijing opponents.
On Saturday, Hong Kong's Chief Executive Leung Chun-ying warned demonstrators that protests must be cleared by Monday morning.
Protesters launched a campaign of occupying government buildings in Hong Kong on September 27.
Hong Kong police said they have arrested 19 people, including some who are thought to have ties to organized crime gangs.
The unrest in Hong Kong was triggered after China refused to allow open nominations for the city's next chief executive in 2017.
Therefore, the voters will have to choose from a list of two or three candidates selected by a nominating committee.
China has said it will introduce universal suffrage for the city's 2017 election, but wants a committee to approve the candidates.
Hong Kong is a special administrative region of China. The financial hub has enjoyed substantial political autonomy since 1997, when its leadership returned to China after about a century of British colonial rule.