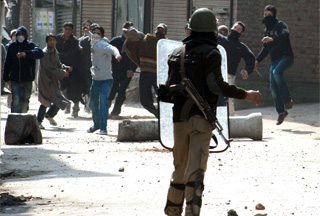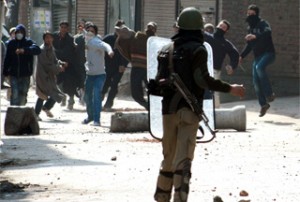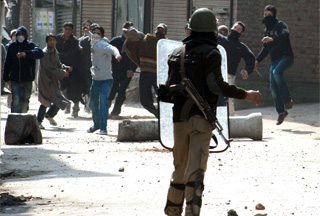 Violent clashes have continued for a third day in Indian-administered Kashmir between Indian police and people over the death of a teenage protester.
On Sunday, Wamiq Farooq was hit in the head by a teargas shell as police dispersed a demonstration against Indian rule.
According to police sources more than 80 protesters and about 30 policemen have been injured in the past three days' clashes.
Inspector-General Farooq Ahmad from the Kashmiri Police told Press TV that they have adopted remedial measures to stop such incidents from occurring in future.
Shops and businesses in most of the Kashmir Valley were closed on Wednesday and many vehicles stayed off the roads.
Since 2009, Kashmir has regularly witnessed clashes between stone-throwing protesters and police forces. The police have drawn up a list of youngsters who are involved in stone throwing, said a police official.
Police use Public Safety Act to punish stone-throwers. Under the legislation those who endanger the security of the state will face two years of detention without trial.
Legal experts, however, say stone-throwing is a minor offence that could be dealt with "ordinary laws".