Africa
Fresh mass anti-junta rallies rock Sudan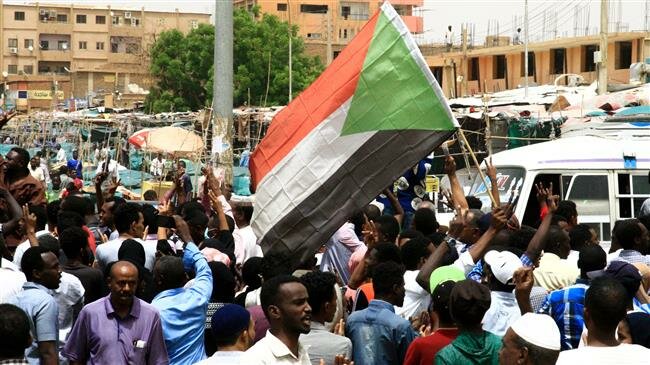 Tens of thousands of Sudanese have taken to the streets to protest a deadly crackdown on people outside the military headquarters in Khartoum earlier this month and to urge the country's ruling generals to cede power to civilians.
A large number of Sudanese men and women flooded the streets of the al-Sahafa neighborhood in the capital on Sunday. Hundreds more took to the streets of the Jabra neighborhood, and rallies were underway in other districts as well.
The angry protesters flashed victory signs and chanted revolutionary slogans such as "civilian rule, civilian rule."
"We are here for the martyrs of the (June 3) sit-in. We want a civilian state that guarantees our freedom. We want to get rid of military dictatorship," AFP quoted protester Zeinab, who gave only her first name, as saying.
Protests were also staged in the cities of al-Obied, Madani, and Khasma al-Girba.
Sudanese police fired tear gas in three districts of Khartoum to disperse the protesters.
Security forces also fired tear gas at demonstrators in the eastern town of Gadaref.
The feared paramilitary Rapid Support Forces (RSF) deployed in pick-up trucks with machine guns mounted on them in several squares in Khartoum, and many shops were shut.
RSF chief General Mohamed Hamdan Dagalo earlier warned he would not tolerate any "vandalism" during the protests.
"There are vandals, there are people who have an agenda, a hidden agenda. We don't want problems," Dagalo, who is also the ruling military council's deputy chief, said Saturday.
An RSF unit allegedly prevented protest leaders from holding a news conference to unveil plans for the Sunday rally.
"Before we could start the press conference, three vehicles from the RSF, full of armed men, came to our building and told us not to hold the press conference," a prominent protest leader, Ahmed al-Rabie, said.
The development comes as the umbrella protest movement Alliance for Freedom and Change said demonstrators in Khartoum and its twin city of Omdurman would march to the homes of some of the protesters killed on June 3.
On that day, dozens of demonstrators were killed and hundreds wounded when armed men in military fatigues stormed the sit-in outside army headquarters, shooting and beating protesters who had camped there since April 6.
The sit-in had become the focal point of protests against long-time ruler Omar al-Bashir and the military council that ousted him on April 11.
The early June dispersal caused the collapse of talks between the military council and a coalition of opposition and protest groups over how to manage a transition toward elections.
According to doctors close to the alliance, about 130 people have been killed since the crackdown, the majority of them on the day of the crackdown.
In a separate development on Sunday, a protest group called for a march on the presidential palace.