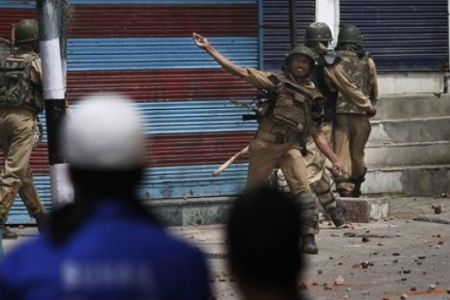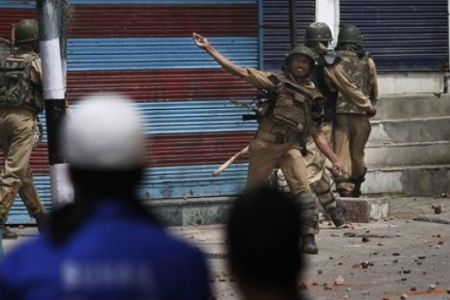 Government troops have opened fire on protesters in Indian-administered Kashmir, killing four demonstrators, including a teenager.
The incident took place on Friday when Indian security forces fired live rounds and tear-gas shells at protesters in north Kashmir's Pattan, Kupwara and Sopore areas, Hindustan Times reported.
The confrontation took place after dozens of worshippers attending the Friday prayers were stopped by the Indian troops under the pretext of security restrictions imposed in the region.
This is while no official curfew was declared in Kashmir on Friday, the daily noted.
A 17-year-old youth was among those shot dead in Kupwara district, north of Kashmir's main city, Srinagar.
"Hundreds of people came out on the streets after dawn prayers and held a noisy anti-India demonstration," AFP quoted witnesses as saying.
Protesters also accused the Indian troops of opening fire without provocation.
Police officials say dozens more were wounded in the unrest
"Several others are injured, including a 60-year old woman," AFP quoted a police officer as saying.
A curfew has been imposed in the volatile region to prevent further unrest in the disputed region.
The latest deaths follow a recent surge in violence in the Indian-controlled Kashmir valley.
At least 55 people have lost their lives in clashes with Indian forces over past two months.
The unrest started in June after a teenage student was killed by a teargas shell.
Kashmir lies at the heart of more than 60 years of hostility between India and Pakistan, which both claim the region in full but have partial control over it.