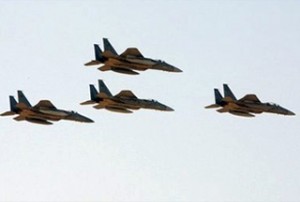 Government forces have launched fresh airstrikes on northern Yemen, killing at least seven people, including two women.
Witnesses said the Thursday attacks took place in Yemen's Al-Jawf province.
Earlier in the day, the Houthi fighters said that Saudi warplanes had also attacked the country's north with more than 400 missiles. A Houthi spokesman said 25 people including women and children were killed in the overnight raids.
Saudi Arabia joined Sana'a's months-long fierce armed campaign against the Shia fighters in November.
The conflict between the central government in Sana'a and the Houthis of northern Yemen began in 2004. The conflict intensified in August 2009 when the Yemeni army launched Operation Scorched Earth, alleging that the Houthi fighters had violated the terms of a ceasefire by taking foreign visitors hostage.
The offensives, meanwhile, have been taking their toll on the locals with the Saudis reportedly venturing beyond the Houthi positions, targeting civilian areas and using unconventional weaponry including flesh-eating white phosphorus bombs.
On Wednesday, a Houthi spokesman announced that the fighters were willing to withdraw from Saudi territory in exchange for an end to the attacks by Saudi forces.
The UN High Commissioner for Refugees estimates that since 2004, up to 175,000 people have been forced to leave their homes in Sa'ada and take refuge in overcrowded camps set up by the United Nations.