Syria
FSA, ISIS control less than 30 percent of southwest Syria – map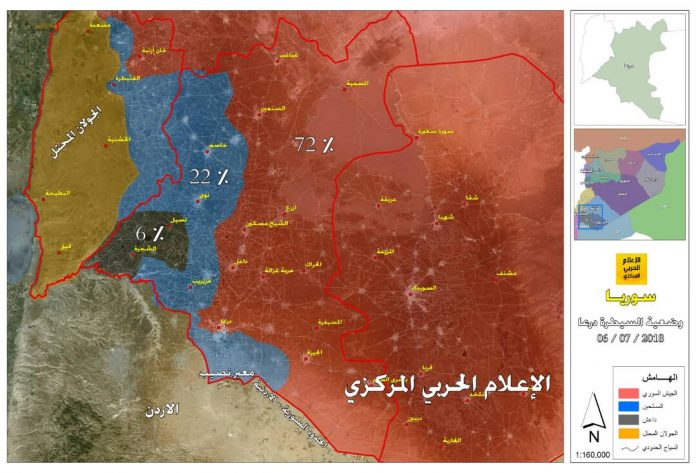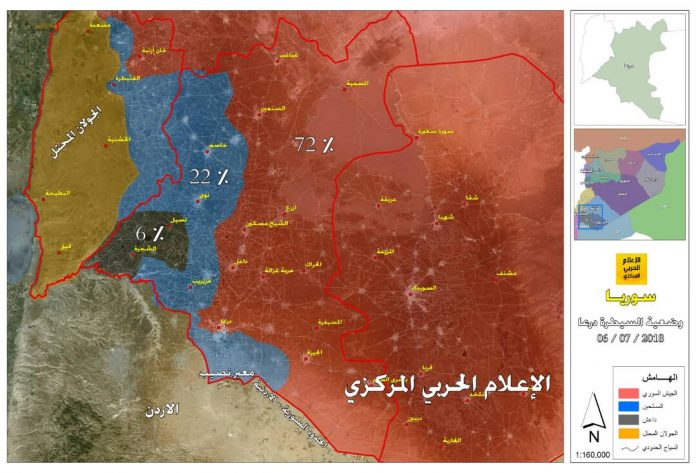 Terrorists have completely collapsed in eastern and southern Daraa, prompting the Syrian Arab Army (SAA) to sweep through a large amount of territory in the last few days.
The Syrian Army has retaken several areas in the last 48 hours, forcing the rebels to fall back towards the provincial capital.
As a result of these advances, the Syrian Army finds themselves in control of approximately 72 percent of southwest Syria.
The remaining 28 percent is under the control of the Free Syrian Army/Hay'at Tahrir Al-Sham and Jaysh Khaled bin Walid (ISIS affiliate).
With major defeats at Al-Naimah and Saida, the terrorists find themselves in serious trouble at the provincial capital of Daraa, as thousands of Syrian Arab Army soldiers have positioned themselves inside and outside the city for their upcoming operation.
The provincial capital will target several parts of the city, including the imperative Daraa Al-Balad District, which has been a rebel stronghold for years.
More importantly, this operation in the provincial capital will ensure the security of the Jordanian border, which is currently a high priority for the Syrian government because of future trade prospects between Damascus and Amman.
The Syrian government has wanted to reopen the trade route between Amman and Damascus for years; however, the rebel control of the Nassib Crossing has made it difficult to do so.