Economy
Iran
Middle East
Fuel rationing aimed to help low-income social classes: Iran's govt.
Iran's government has defended its decision to ration fuel and increase gasoline prices, saying the measure is aimed at supporting low-income households and establishing social justice.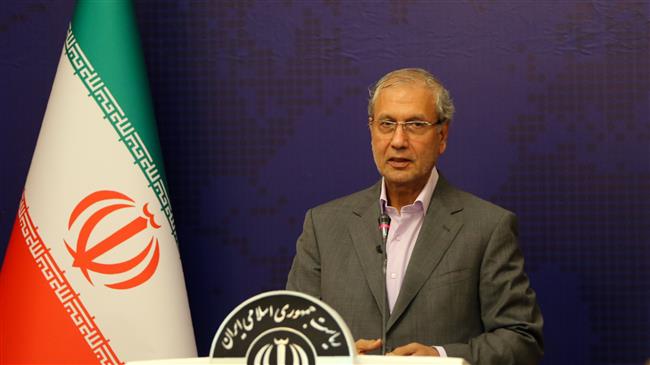 Ali Rabiei, spokesman for the Iranian administration, said at a press conference in Tehran on Monday that the plan to raise gasoline fees was part of efforts to support the low- and middle-income people in the country at the time of economic sanctions.
"Under the current circumstances that the country is facing the most unprecedented sanctions and pressures, the main reason for adjusting prices is to promote social justice or to move toward that [goal]. The lower deciles of the society are under [financial and economic] pressure and the government feels obliged to support them," Rabiei said.
The Iranian official added that the resources allocated to supporting the people's livelihood would be available through adjusting fuel prices, adding that the best approach to help low-income households is to stem subsidies for the affluent and allocate them to the less endowed.
Stressing that the rich have enjoyed the lion's share of subsidies for gasoline, Rabiei said well-off families used to have 23 times more benefits from gasoline-related subsidies compared to lower income families and therefore, the most logical way possible was to raise the price of gasoline.
On Friday, Iran began rationing gasoline and substantially increased the price of fuel, saying the revenue would be used to assist the needy.
The National Iranian Oil Products Distribution Company (NIOPDC) said in a statement late Thursday that the price of a liter of regular gasoline had gone up to 15,000 rials (12.7 US cents) from 10,000 rials and the monthly ration for each private automobile was set at 60 liters per month. Additional purchases would cost 30,000 rials per liter.
The decision sparked rallies in a number of Iranian cities, some of which were marred by violence as opportunist elements tried to exploit the situation and ride the wave of peaceful protests against hiking fuel prices.
Consequently, the demonstrations turned violent in some cities, with reports of clashes between security forces and certain elements vandalizing public property.
'Protesters different from rioters'
Elsewhere in his remarks, the Iranian administration's spokesman said there have been numerous requests in cities across the country from police to prevent riots and looting that followed gasoline rationing and and restore calm.
"There is certainly a fine line between detractors, those who are concerned about their livelihood, and those who used firearms," Rabiei said.
Intelligence report: Rioters exploiting people's protests to damage public propertyA report by an Iranian intelligence organization says "trained saboteurs" exploited people's protests to set public buildings on fire and attack police officers in various Iranian cities.
Rabiei said at the presser that the establishment and the government regard protests as a right of people but stressed that protesters are different from rioters.
"Those hooligans who cause destruction with weapons and set property on fire are definitely different from those who voice their grievances in a peaceful manner," Rabiei added.
Pompeo 'shamelessly' backs unrest in Iran
The Iranian official further pointed to US Secretary of State Mike Pompeo's support for rioters and said the support came as no surprise as the US official had already and brazenly supported the maximum sanctions on Tehran.
"You have lied to your people in the [US] election and deceived them during the election race, the discussions of which are now witnessed in Congress," Rabiei said. "You have not brought freedom, democracy, growth and development to any countries whatsoever, and our people are well aware of that."
Iranians entitled to protest, insecurity not tolerated: President RouhaniIran
Pompeo took to twitter on Saturday and voiced outright support for acts of violence staged some Iranian cities under the guise of protests against fuel price hikes.
Reacting to Pompeo's remarks, Iran's Foreign Ministry spokesman, Abbas Mousavi, said, "The dignified people of Iran are well aware that such hypocritical remarks contain no honest sympathy and the [violent] actions of a group of anarchists and saboteurs who are supported by the likes of him are by no means in line with the conduct and behavior of the majority of the understanding and insightful Iranian people."
US supports anarchists, not Iranian people: SpokesmanIran says the US is not sympathetic toward the Iranian people, but supports spread of chaos.
Earlier on Sunday, Leader of the Islamic Revolution Ayatollah Seyyed Ali Khamenei backed the Iranian government decision to ration gasoline and increase its price.
Ayatollah Khamenei said while he is not an expert in the field, he still supports the decision which has been made by the three branches of power — namely, executive, legislative and judicial.
Leader of the Islamic Revolution Ayatollah Seyyed Ali Khamenei has thrown his weight behind a recent government decision to ration gasoline and increase its price.
Also on Sunday, Iran's President Hassan Rouhani said that his administration recognizes people's right to hold protests against a recent government decision to ration gasoline, emphasizing, however, that nobody will be allowed to spread insecurity in the society.