Iran
Fugitive Iranian Ex-Banker Extradited to Iran from Spain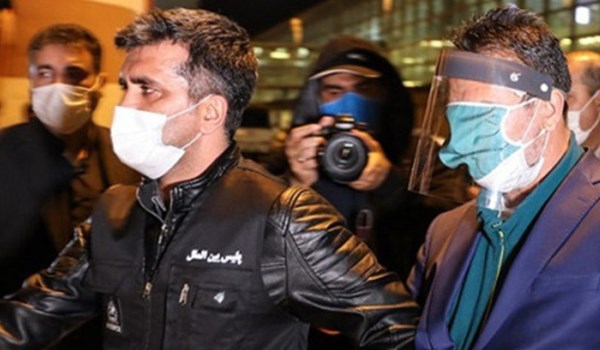 Alireza Heydar Abadipour, the former CEO of Sarmayeh Bank, who was implicated in a financial corruption case was extradited to Iran from Spain.
Abadipour was taken into the Iranian police custody upon arrival at Tehran's Imam Khomeini airport on Wednesday.
He is implicated in a case of fraud and embezzlement of hundreds of millions of dollars centered on Sarmayeh Bank and the Teachers Investment Fund.
Heidar Abadipour fled the country during preliminary investigations, but he was tried in absentia and received a 12-year prison sentence.
According to the Judiciary, the convict was wanted for "disrupting the country's financial system" through corruption and acquisition of illegitimate property.
He was detained in Spain in June 2019 after Iranian police requested Interpol to issue a "red notice" for his arrest.
The extradition was the first time that a major economic convict was deported to Iran from Europe.
Iran's Judiciary said the extradition is the first important step in fulfilling an order issued earlier this year by Judiciary Chief Ebrahim Rayeesi to bring fugitive corruption suspects back to Iran.
"Undoubtedly, the efforts of the judicial system and other organizations to return Heydar Abadipour will sound the alarms for other looters of public funds who have escaped abroad and sought harbor in western countries," the Judiciary said in a statement released on its website, vowing to go after other financial fugitives.
A high-ranking judiciary official had said in June that some European states are not honest in their claim about supporting the Iranian nation as they provide shelter for financial and security criminals.
Iranian Judiciary's deputy for international and human rights affairs, Ali Baqeri, made the remarks after the Judiciary Chief Ebrahim Rayeesi issued an order urging strong pursuit of those financial criminals who have fled the country.
"Some Western countries use all means to support those who have committed security and economic crimes and, at the same time, are impudently claiming that they back the Iranian nation," Baqeri said.
He stressed that some European countries not only refuse to extradite the fugitive criminals, but also grant them refuge and citizenship.
"These countries are not just a safe haven for terrorists who have the blood of the Iranian nation on their hands, but also are the shelters for corrupt individuals and embezzlers, who have stolen the Iranian people's money," Baqeri noted.