Iraq
'Full withdrawal of terrorists prelude to rebuilding Iraq'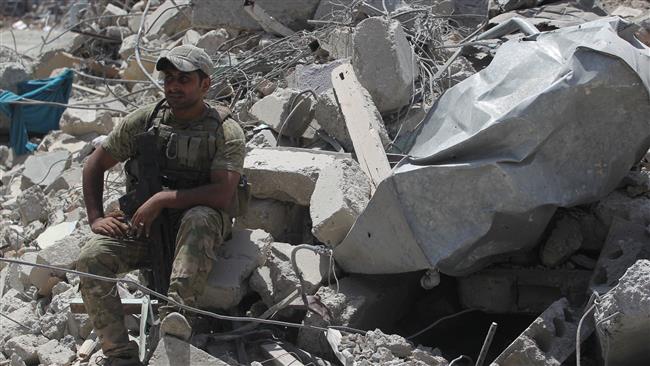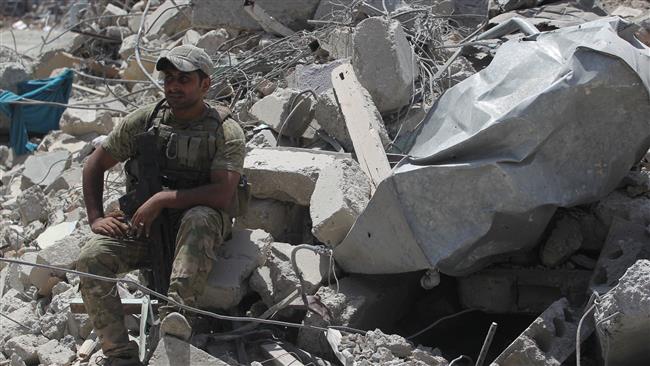 Iraqi armed forces, backed by Popular Mobilization Units, have finally succeeded in mopping up the last remaining members of the Daesh Takfiri group in Mosul. The official announcement of the full liberation of the city has generated mixed feelings of hope and concern about the future of the Arab country. Press TV has asked Michael Springmann, an American author and former diplomat from Washington, and Richard Millet, a journalist and political commentator from London, to give their views on the significance of the liberation of Mosul.
Michael Springmann said that Iraqis need to be assured of the complete extermination of the terrorists before starting to rebuild Mosul and other parts of their country.
He said that regional and international powers are expected to withdraw their proxy forces to pave the way for the reconstruction of Iraq.
"The best way to rebuild Iraq is to stop supporting [terrorist organizations], withdraw all the foreign forces from the country and provide them (Iraqis) with a Marshall plan … to rebuild the destruction that has been caused by two American wars," the former diplomat said on Sunday night.
The United States attacked Iraq in a bid to push Iraqi forces to withdraw from Kuwait in 1990. Americans waged another war on Iraq in 2003 by occupying the country in an apparent attempt to overthrow former dictator Saddam Hussein.
Springmann recalled that there was no al-Qaeda or other extremist group in Iraq before the American invasion in 2003 and that as a result of the destabilizing US occupation, the Daesh Takfiri terrorists rose and launched their horrendous campaign of death and destruction.
"The Americans and their repressive and repulsive allies in the region have been working very hard to support these various terrorist groups" in order to push forward their agenda, he analyzed.
Referring to the United States' role in creating and supporting terrorist organizations in the region, he argued that Washington started to support the so-called Mujahedin group in Afghanistan in 1979. There have been other "fanatics" such as al-Qaeda and Daesh that "the Americans, the Saudis and the other folks have recruited, trained and supported for years," he added.
To sow discord among Arab and Muslim nations and to pursue their agenda in the Middle East, "the Americans and the Europeans made up the religious split," he explained.
The Iraqi Sunni and Shia populations had long been living together in peace and tranquility "until the Americans and their Wahhabi allies moved into Iraq and tried to split them up," Springmann said.
Meanwhile, Richard Millet expressed hope that the Iraqi people would get back to normality after the liberation of the country's second largest city from Daesh.
He also called for handing over the Arab country to the Iraqi people, claiming that a rivalry between Saudi Arabia and Iran has created insecurity in Iraq and Syria.
The analyst further noted that the defeat of Daesh in Mosul does not mean the end of the terrorist group, because Daesh has become an "ideology like al-Qaeda."