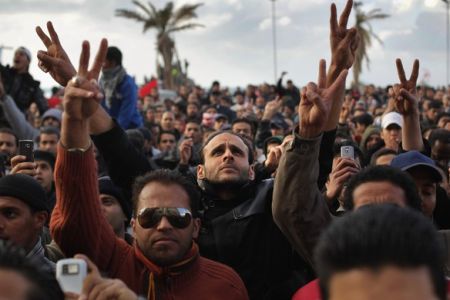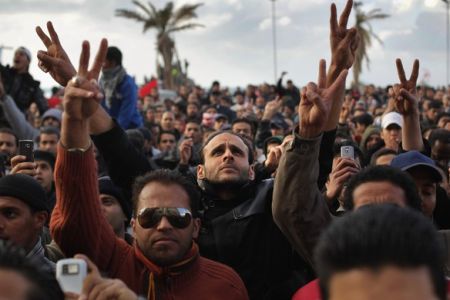 Reports say forces and foreign mercenaries loyal to Libyan ruler Muammar Gaddafi have surrendered parts of the capital Tripoli to pro-democracy protesters.
The residents of some neighborhoods in the capital have barricaded their streets and proclaimed open defiance. Protesters have also taken control of the city of Zawiyah, some 50-kilometers west of Tripoli.
This is while revolutionary forces are advancing towards Tripoli. Forces loyal to Gaddafi continue the violent suppression of anti-government demonstrations as protesters are fighting their way into the capital.
As pro-democracy demonstrations continue across Libya, more cities are falling into the hands of protesters, who have already seized control of several cities including Libya's second largest city, Benghazi.
The opposition is planning to form an interim government in cities liberated from Gaddafi's rule, to pave the way for free and fair elections.
The UN Security Council has imposed sanctions on the Libyan regime and has referred Gaddafi to the International Criminal Court.
The United Nations' refugee agency says nearly 100,000 people have fled Libya in the past week amid simmering tension in the North African country.
According to the UNHCR, most of the evacuees were foreign nationals.
The agency described the situation as a humanitarian crisis, urging the Tunisian and Egyptian governments to support the evacuees.
Earlier, border security officials at Ra's Jedir crossing said over 38,000 people have crossed Libya into Tunisia since February 20.
The evacuation of foreign nationals has picked up speed since Colonel Gaddafi announced plans to arm his supporters to fight his opponents.