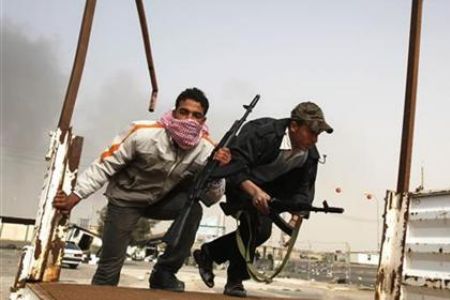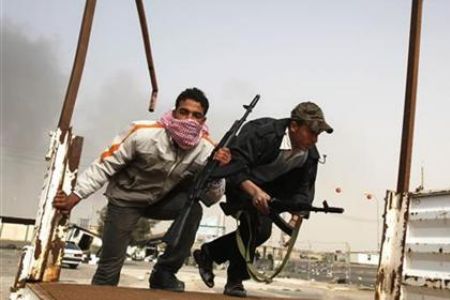 A helicopter belonging to government forces under Libya's ruler Muammar Gaddafi has been downed around the northwestern city of Misrata as the regime's grip on power loosens.
The chopper went down some 210 kilometers east of the capital, Tripoli, where pro-democracy protesters have also repelled the latest offensive by the Gaddafi regime.
The port city is Libya's third largest where a number of people have also been reportedly killed.
The report comes a day after forces loyal to Gaddafi heavily bombarded pro-democracy protesters, who are closing in on the capital city where the North African state's ruler has been holed up.
The bombardment was reported in Zawiyah, a city located some 50 kilometers west of Tripoli.
According to reports, two thousand people have been killed in Libya's weeks-long violence.
The embattled regime has recently used aerial attacks and poison gas against the peaceful protesters.
Reports also say forces and foreign mercenaries loyal to Gaddafi have surrendered parts of Tripoli to pro-democracy protesters.
The residents of some neighborhoods in the capital have barricaded their streets and are openly showing defiance.
The pro-democracy demonstrations continue across Libya as more cities fall into protesters' control.