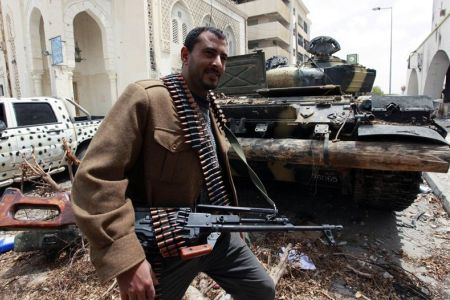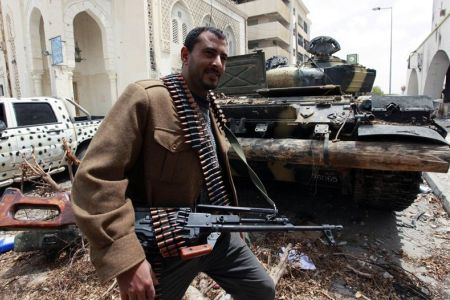 Libya's revolutionary forces say they have pushed troops loyal to embattled Libyan ruler Muammar Gaddafi out of the besieged western city of Misratah.
On Monday, revolutionaries defeated pro-Gaddafi troops stationed in the outskirts of the city and successfully took control of a coastline area that stretches west to the capital Tripoli.
An AFP report said Tuesday that they are now advancing towards the cities of Dafnia and Zliten.
Areas in the south and east of Misratah have also come under control of the revolutionary forces, said Ahmad Hassan, a revolutionary spokesman.
But fighting over the west and south of the city continues as pro-Gaddafi forces remain in control of the eastern side of the airport.
According to Hassan, many Gaddafi troops were killed in the operation and large amounts of weapons were seized.
Nearly 18 revolutionaries and civilians were also wounded in the clashes. The report could not be immediately verified.
Misratah — Libya's third largest city — has been under fire from troops loyal to Gaddafi since the Libyan revolution began in mid-February.
Authorized by the UN, a coalition of Western military forces began an aerial bombing campaign over Libya in March, purportedly to "protect civilian population" in the crisis-hit country. However, fighting between the revolutionaries and forces loyal to Gaddafi continue unabated.
Medics say weeks of fighting have so far claimed at least 300 lives in the strategic western city.
The developments come as the humanitarian situation in the Misratah has been widely reported as alarming.
Many Misratah residents are now in dire need of food, water and medical supplies.
The United Nations has warned that the only way out of the widespread shortages is to bring the war to a halt.