Africa
Gana President: Iran always supporter of the freedom movement in Africa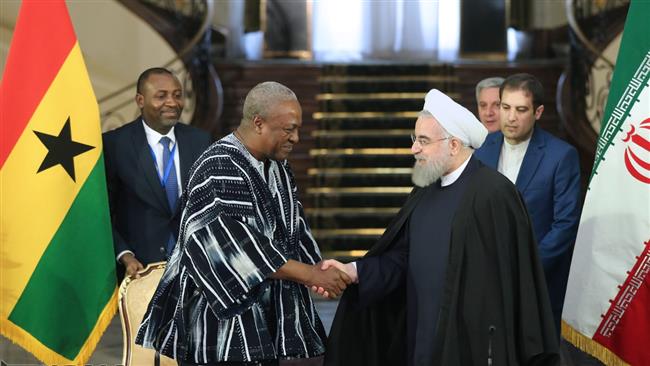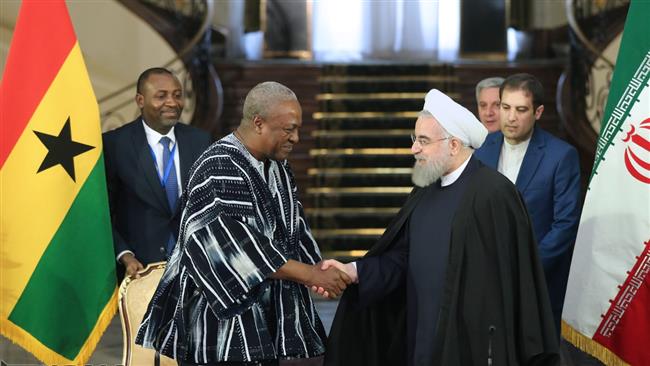 Iran and Ghana sign new documents for cooperation as President John Dramani Mahama visits Tehran at the head of an economic and political delegation, hailing the trip as the "beginning of a new epoch in bilateral ties."
"I am proud to be the first African leader to visit Iran after the nuclear agreement and also the first Ghanaian leader to come here after the Islamic Revolution," Mahama told a joint news conference with his Iranian counterpart Hassan Rouhani on Sunday.
Mahama said there are many grounds for cooperation in a variety of fields, including oil and gas, agriculture, power generation and production of cement, home appliances and engineering products.
"We think Iran enjoys a good advantage in these fields and can become a suitable partner for Ghana," he said.
Mahama thanked Iran for its "very high quality health services which it offers at very reasonable prices to the Ghanaian people."
He also thanked President Rouhani for "Iran's educational support" and the fellowships which it grants to the Ghanaian youths to study medicine and engineering in Iran.
Mahama said Iran's establishment of an Islamic Azad University in Ghana had allowed the Ghanaian youths of all religious denominations, including Muslims, Christians and Buddhists, to carry on their graduate studies.
"I also thank Iran for its agricultural services which it offers to poor and remote areas in Ghana which have led to better production and food security in these regions," he said.
Iranian farming in Ghana
According Peter Kiguta, head of Customs and Trade at the East African Community (EAC), the lifting of sanctions on Iran will pave the way for African states to forge closer ties with Iran.
He said the region needs to export value-added products if it wants to tilt the balance of trade which is in Iran's favor.
Mahama said, "Iran has always been a close friend and supporter of the freedom movement in Africa and has always sought colonialism to leave the continent. Iran was also a supporter of South African struggle against apartheid."
"Iran enjoys very high potentials and we accord a high value to friendship between Iran and Africa," he added.
Last week, Iranian Ambassador to Kenya Hadi Farajvand said the Islamic Republic was looking to lease land in Kenya, Uganda and Tanzania for large-scale food production to serve local and export markets.
The move is also aimed at narrowing trade deficit with the Horn of Africa countries, he added.
Iranian officials have already said they are planning cultivation in Ghana whose agricultural sector accounts for over half of the African nation's gross domestic product and is the world's second largest cocoa producer.
The plan it part of Iran's farmland investment overseas as the Middle Eastern country seeks to secure food supplies amid a lingering drought.
Water-intensive rice and corn crops as well as oilseeds and livestock inputs have been cited by Agriculture Ministry officials as the target products which Iran seeks to grow on farmlands overseas.