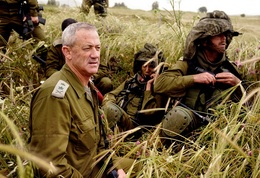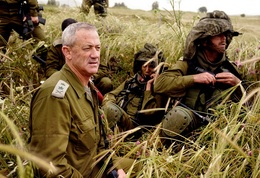 The head of Zionist armed forces Lieutenant General Benny Gantz said in any future war the entity could come under simultaneous attack in many ways and almost anywhere.
Gantz
"The war could open with a surgical missile strike on the general staff building in the heart of the Kiriya (defence ministry complex) in Tel Aviv," Gantz told a conference in remarks broadcast by public radio on Wednesday.
"It is possible that there will be a cyber attack on a site supplying the daily needs of Israeli citizens; that traffic lights would stop working or the banks would be paralyzed," he added.
Gantz said Hezbollah could pose a major threat. "The accuracy of their missiles will increase dramatically, and if Hezbollah chooses to strike a pinpoint target, almost anywhere in Israel, it could do so," the military's website quoted him as saying.
Gantz postulated that along with a missile hit on the military headquarters, patrols on the Israeli-occupied Golan Heights could come under attack from Islamic resistance groups.
"The Chief of Staff will be told that there are three kidnapped soldiers, one of whom is a battalion commander," he said. "Responsibility for the incident will likely be taken by a terrorist organization, either from global Jihad or another organization without a specific affiliation. "The pastoral landscape of the Golan Heights… could turn with a sudden bang into a battleground of blood, fire and pillars of smoke," Gantz added.
The military website quoted Gantz as saying that while the scenarios he cited were all hypothetical, they were well within the realm of possibility. "Sound imaginary?" he asked the audience of academics. "I don't believe so."