Palestine
Gaza death toll hits 1,361 on day 23 of the Israeli assault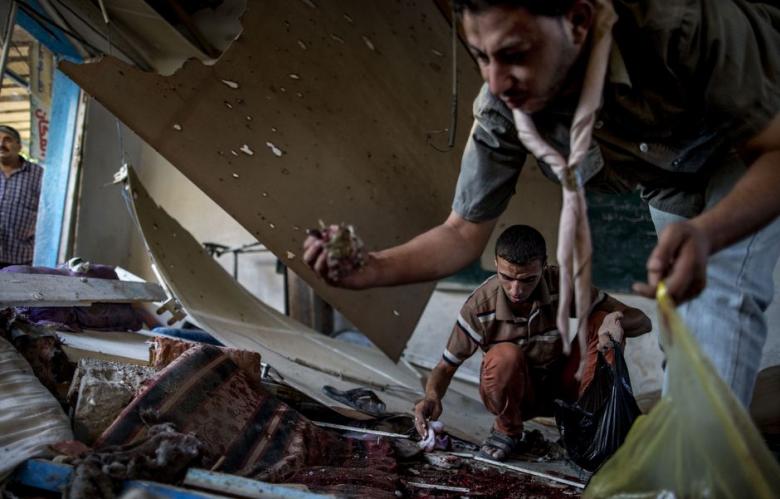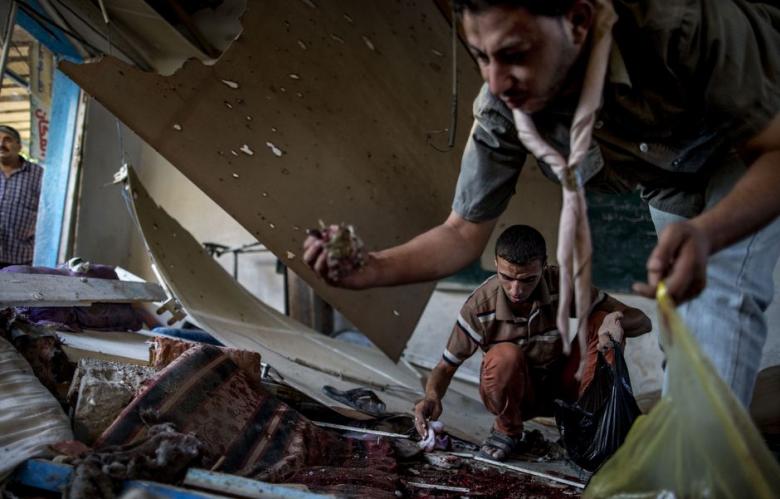 Updated 1:00 am: Israeli bombings on Wednesday killed more than 130 Palestinians in Gaza, including at least 20 at a UN school and 17 in al-Shujayeh, on day 23 of Israel's assault against the besieged strip.
The deaths brought the Palestinian toll to more than 1,361, emergency services spokesman Ashraf al-Qudra said. Qudra added that 180 Palestinians were injured on Wednesday, raising the total number of wounded to 6,780.
On Wednesday afternoon, Israeli forces committed a new massacre in al-Shujayeh, east of Gaza city, killing over 17 people.
Earlier this morning shelling killed 20 people at the UN school being used as a shelter for those displaced by the war.
An AFP correspondent said the occupation forces had been pounding the area with tank fire for an hour before striking the school.
Blood was splattered across floors and mattresses inside classrooms as survivors picked through shattered glass and debris for flesh and body parts to bury.
At the edge of the schoolyard, some 20 donkeys lay dead, still tied to a railing.
Displaced Palestinians who had already had to leave their homes quickly gathered belongings and fled the building.
Khalil al-Halabi, director of UNRWA's northern Gaza operations, said some 3,000 Palestinians were taking refuge in the school, in Jabalia refugee camp, when it came under fire around dawn.
"There were five shells — Israeli tank shells — which struck the people and killed many of them as they slept. Those people came to the school because it is a designated UN shelter," he said.
Five of the wounded were in critical condition, Halabi said. It was the second time in a week that a UN school sheltering hundreds of homeless Palestinians had been hit.
"I condemn in the strongest possible terms this serious violation of international law by Israeli forces," said UNRWA commissioner General Pierre Krähenbühl, saying the school's location had been communicated to the Israeli army 17 times.
"This is the sixth time that one of our schools has been struck," he said, calling the attack a "breaking point."
Krähenbühl said UNRWA was entering the "realm of accountability" and called for an end to the carnage.
Abdel-Karim al-Masamha, 27, said he and his family had come to the school after fleeing fighting near their home in the northern Gaza Strip.
"We did not find safety here," he said. "People were martyred before our eyes. They were dismembered."
Shelling earlier in the northern Gaza Strip killed an 11-year-old handicapped girl, Qudra said, with a subsequent shelling in the center of the small coastal territory killing a 16-year-old girl.
Five members of the same family in Jabalia were also killed in a strike.
A strike shortly afterwards in the southern city of Khan Younis killed 10 members of a single family, Qudra said, including one child who could not immediately be identified.
According to Qudra, the victims were all from the Abu Amer family.
A middle-aged man was killed early in the morning in the southern city of Rafah.
Three children were among six people killed in an Israeli tank shelling on Gaza City on Wednesday, medics said.
The attack took place in Tuffah neighborhood in the northeastern part of the city, killing six members of the Al-Khalili family, Qudra said.
Rights groups have expressed alarm at the number of children victims.
The more than 240 Palestinian children who have died represent at least 29 percent of civilian casualties, the United Nations Children's Fund, UNICEF, said in a statement.
"We see children killed, injured, mutilated and burnt, in addition to being terrified to their core. The consequences run much deeper than previous flare-ups" in Gaza, UNICEF's Gaza field office chief Pernille Ironside said.
An estimated 240,000 Palestinians having taken shelter in 85 of UNRWA's schools and buildings following calls by Israel for civilians to evacuate whole neighborhoods before military operations.
On the Israeli side, militant fire, including cross-border rocket fire, has killed 53 Israeli soldiers in addition to two Israeli civilians and a Thai laborer.
Few Israelis want the operation to end now.
A Tel Aviv University poll published on Tuesday found 95 percent of Israel's Jewish majority felt the assault was justified. Only four percent believed too much force had been used.
Meanwhile Chile, Peru and El Salvador said they were recalling their envoys to Israel in protest of the assault.
(AFP, Reuters, Al-Akhbar)