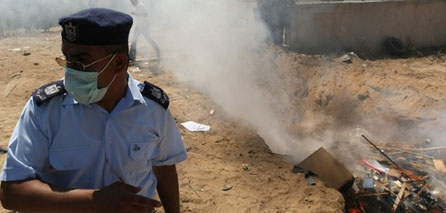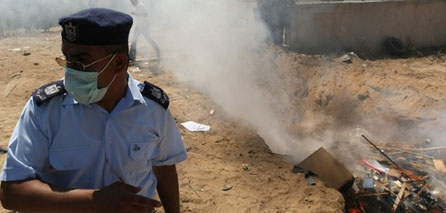 Palestinian Police in Gaza have publicly burned large trash bags of drugs and alcohol bottles in what they say is an expanded anti-drug campaign.
Amer Issa, head of the anti-drug unit in Palestinian police of Gaza, says the drugs were smuggled from Israel and Egypt.
He says that in July, Gaza police seized 150 kilograms of marijuana, four kilograms of cocaine, 200 bottles of alcohol and 2 million pain killer tablets many Gazans have been abusing as a narcotic.
Israeli occupation tries repeatedly and through his collaborators to sink Gaza with drugs and alcohol to destroy the Palestinian society he could not defeat in the last war.
To weaken the Palestinian society, Israel tries to send all types of drugs into Gaza Strip, collaborators with Israeli occupation caught by Palestinian government in Gaza confirmed that their mission had been to bring drugs from Israeli officers into Gaza Strip.
Collaborators admitted that they receive these kinds of drugs through borders with 48 Palestinian territories.
They added, Israeli intelligence officers deliver these drugs to us, what we sell in Gaza.
These Israeli attempts aim to harm the Palestinian and Islamic values of Gaza people who is considered the most religious and conservative society in the Islamic and Arab world.
Israel imposed unjust siege on Gaza after the democratic victory of Hamas, Israeli occupation started punishing the Palestinian people collectively for his democratic choice represented in the Islamic resistance movement of Hamas, and as a result, Israel prevented the simple humanitarian supplies from entering into Gaza Strip, as well as waging war on Gaza in 2008-2009 caused of death of 1400 Palestinian most were civilians: children, women and elders including massive destruction and devastation of Palestinian properties and infrastructure.