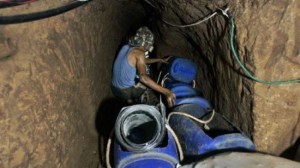 A senior Hamas official says the closure of Gaza tunnels by the Egyptian military is causing major losses to the Israeli-blockaded enclave.
Hatem Oweida, a deputy economy minister for Hamas, said on Sunday that the closure of the tunnels caused heavy losses to the industry, commerce, agriculture, transport and construction sectors.
Oweida said the monthly financial damage was estimated at about USD 230 million.
Gazans rely on these tunnels to bring in at least 40 percent of their construction supplies and other necessities, the official added.
He warned that the unemployment rate in Gaza would hit 43 percent if official border crossings remained closed and the tunnels were destroyed.
Egypt has stepped up the destruction of the tunnels on the Egyptian side of the border since the ouster of President Mohamed Morsi in July.
The Egyptian military has announced that since the beginning of this year, it has destroyed 794 tunnels by blowing, bulldozing or funneling water into them.
Several Palestinians have lost their lives as they were caught up in the tunnels during destruction operations.
More than 80 percent of the tunnels are no longer functional following their destruction by the Egyptian security forces.
The underground facilities serve as a lifeline for Gaza population of over 1.7 million. Egypt's destruction of tunnels running into the Israeli-blockaded territories has therefore caused a shortage of fuel and other goods.
Several human rights organizations and civil groups have criticized the Egyptian army for preventing the people in Gaza from accessing most of their basic goods like construction materials, food, and fuel.