Gazans back hunger-striking prisoners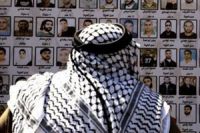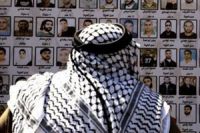 Hundreds of people have staged more rallies in the Gaza Strip to show their solidarity with hunger-striking Palestinian prisoners inside Zionist regime's jails.
According to Press TV, on Monday, the Palestinian protesters staged rallies in front of the office of the International Committee of the Red Cross to drum up support for Palestinian prisoners on hunger strike inside Zionist regime's prisons.
Some 120 Palestinian prisoners have been on hunger strike since April 24 in protest at the Zionist regime's "administrative detention." Administrative detention is a sort of imprisonment without trial or charge that allows Tel Aviv to imprison Palestinians for up to six months. The detention order can, however, be renewed for an indefinite period of time.
Osama Wahidi from Association of Palestinian Prisoners told Press TV "Tomorrow a new group of prisoners from different prisons are going to join these hunger strikes that means this battle of hunger strike is very serious and the final aim for these detainees, the entire Palestinian detainees, is to eliminate the policy of administrative detention."
The protesters also called on international institutions to press Israel to stop detaining Palestinians without charge or trial.