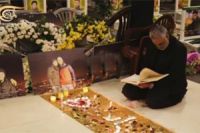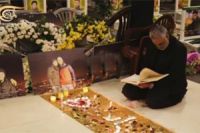 Iran's Major General Qasem Soleimani, a senior commander of the Islamic Revolution Guards Corps (IRGC), has paid tribute to the Hezbollah fighters who were martyred during a recent Zionist regime's attack in Syria's Golan Heights.
According to Press TV, in a visit to the Lebanese capital Beirut on Thursday, Soleimani laid wreaths at the graves of the slain Hezbollah members, including Jihad Mughniyah, the son of late Hezbollah commander Imad Mughniyah.
The Hezbollah fighters were martyred along with Iranian Brigadier General Mohammad Ali Allahdadi in the Israeli attack on January 18.
Allahdadi was on a consultative mission to Syria when the attack took place.
The Lebanese resistance movement carried out a retaliatory attack on Wednesday, killing two Israeli soldiers and injuring several others in an area in southern Lebanon that is occupied by the Israeli regime. Hezbollah's surprise attack also destroyed at least nine Israeli military vehicles.
The Zionist regime responded with combined aerial and ground strikes on southern Lebanon. Many in Lebanon praised Hezbollah for its prompt response to the Israeli attack.