Syria
'Geneva 2 must gather Syrian figures'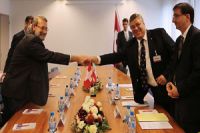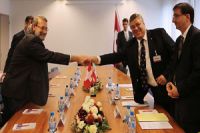 Iran's Majlis Speaker Ali Larijani says the upcoming Geneva 2 conference on Syria must bring influential Syrian political figures together, and bar sponsors of terrorism in the Arab state.
Larijani, in a meeting with his Swiss counterpart Filippo Lombardi on the sidelines of the 129th Inter-Parliamentary Union (IPU) Assembly in Geneva on Wednesday, said: "Geneva 2 conference can be productive if it invites influential Syrian political figures." He added, "We oppose terrorism, and our nation has suffered a lot from terrorism. Therefore, we expect Switzerland to prevent the spread of terrorism."
The Iranian Majlis Speaker referred to terrorism and radicalism as the major threats in the Middle East, stating that certain countries adopt a tactical approach concerning the campaign against terrorism.
Larijani said: "They sometimes exploit terrorism to pursue their interests, and then confront it." The senior Iranian official described a tactical approach concerning the campaign against terrorism as a strategic blunder. Larijani said: "Once terrorism spreads it cannot be repressed… we are now witnessing that Syria has turned into an archipelago of terrorists. It is necessary to adopt a global initiative in the campaign against terrorism otherwise it will become a global crisis."
Lombardi, for his part, stated that the Swiss government is concerned about the Syrian conflict.