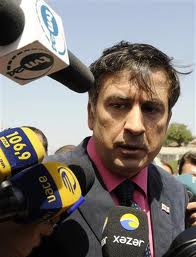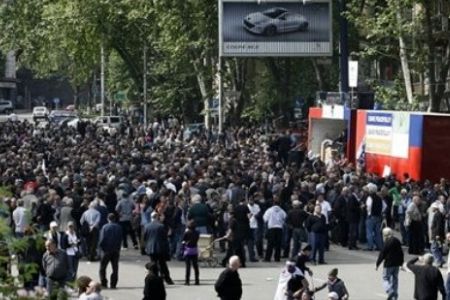 Georgian anti-government protests have entered a third day as thousands of activists in the capital Tbilisi continue to call on President Mikheil Saakashvili to resign.
The opposition held an overnight vigil outside the public television studios in Tbilisi. Protesters accuse Saakashvili of failing to tackle widespread poverty.
Many were armed with sticks to defend the protest venue against any possible crackdown.
There were brief clashes on Sunday when police used rubber bullets and teargas against the demonstrators.
The protesters, led by former Saakashvili ally and parliament speaker Nino Burjanadze, are hoping to repeat the success of the Arab Spring.
Demonstrators also accuse Saakashvili of monopolizing power and losing large parts of Georgian territory during the country's brief war with Russia in 2008.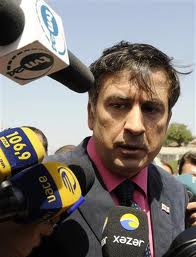 Meanwhile, opposition leader Irakli Okruashvili has vowed to return to Georgia from France this week to join the Wednesday rally despite facing an 11-year jail sentence for alleged corruption.
The former defense minister's arrest helped spark mass protests after he turned against the Georgian president in 2007.
The opposition National Assembly also accused Georgian officials of detaining scores of government opponents and seizing hundreds of activists' cars before the rallies.