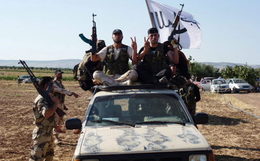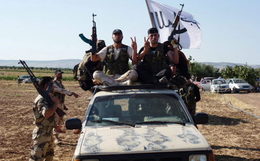 German Islamists have set up their own camp in northern Syria with around 200 fighters, according to a report released on Sunday.
militants in SyriaDer Spiegel news magazine reported that around 200 are now in the "German Camp" or on their way there, taking a now well-worn route from Germany to Istanbul and through to the Syrian border.
Intelligence sources say the number of German Takfiri militants traveling to Syria is on the rise, adding that a German Camp has been set up in northern Syria to serve as a collection point and a training center for German-speaking militants. The majority of these young men hail from the German state of North Rhine-Westphalia.
Authorities estimated that around 1,000 militants from across Europe are currently fighting in Syria — compared to just 250 in late 2012.
European officials have warned that the influx of Europeans to Syria is increasing the threat of future terrorist attacks in Europe, noting that around a dozen militants have already returned to Germany and pose a "particular threat."
Militants from countries including the United States, Canada, France, and Britain are fighting in Syria.