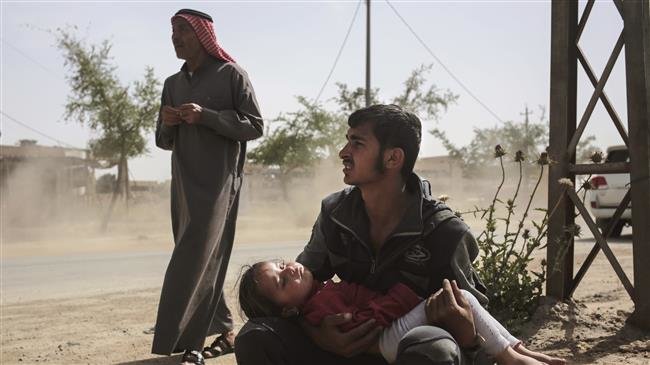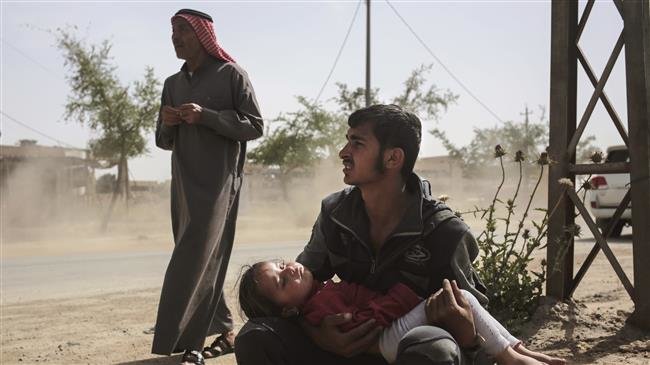 A German woman has been charged with war crimes for allegedly letting a five-year-old girl die of thirst while serving as a member of the Daesh Takfiri terrorist group in Iraq.
German prosecutors charged the 27-year-old woman, only identified as Jennifer W, with war crimes, murder and weapons offenses earlier this month a Munich court.
They said the woman and her husband, who were living in the Iraqi city of Mosul — once occupied by Daesh — bought the girl as a "slave" in summer 2015.
"After the girl fell ill and wet her mattress, the husband of the accused chained her up outside as punishment and let the child die of thirst in the scorching heat," said the prosecutors in a statement. "The accused allowed her husband to do so and did nothing to save the girl."
German police said that the woman had first left Germany in August 2014 and traveled via Turkey and Syria to Iraq where she joined the terrorist group the following month.
"Her task was to ensure that women comply with the behavioral and clothing regulations established by the terrorist organization," said the statement. "For intimidation, the accused carried an assault rifle of the type Kalashnikov, a pistol and an explosives vest."
She is said to have been receiving a monthly salary from Daesh of up to $100.
In January 2016, the woman allegedly visited the German embassy in the Turkish capital, Ankara, and applied for new identity documents. She was arrested by Turkish security services after leaving the embassy and deported to Germany a few days later.
For lack of actionable evidence against her, she was initially allowed to return to Germany.
"Since then her declared goal has been to return to the territory under Islamic State rule," according to prosecutors, who said German police finally arrested her in June when she attempted to travel to Syria again.
Jennifer W would face up to life in prison if convicted. No date has yet been set for the start of the trial.
Extremists from across Europe joined Daesh in droves in 2014, when the Takfiri terror group launched its campaign of death and destruction in Iraq and Syria.
Back then, many European leaders ignored repeated warnings that militants could return home one day and that they would be a security challenge for years to come across the continent.
German Interior Ministry said in October that some 124 militants, who had been fighting in Iraq and Syria, returned to the country.
Europol's annual EU Terrorism Situation and Trend Report (TE-SAT) also warned earlier this year that a particularly strong security threat is posed by terrorists, who have received military training in the use of weapons and explosives, or have gained combat experience during their stay in Iraq and Syria.