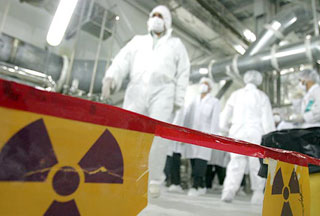 Proposals by an intergovernmental organization requiring financial institutions to curb exports to Iran have been met with skepticism by the German banks and companies.
The Financial Action Task Force (FATF), a body created in 1975 by France, Germany, Italy, Japan, the United Kingdom, and the United States, could adopt a new round of sanctions against Iran in February, German daily Handelsblatt reported.
The punitive measures against Iran over its nuclear program were objected by the Federation of German Industry, which would be required to assure the country's banks that their activities are "above reproach." The industry might lose crucial financing if it is proven otherwise.
Germany already has effective checks on exports and new FATF regulations would undermine the existing regulations, Oliver Wieck of the Federation said on Tuesday.
"If the cost is too high, we ultimately run the risk of seeing banks withdraw from doing business with certain countries or in certain sectors," Bernd Brabaender of the Association of German Banks (BdB) told the daily.
Germany, whose exports to Iran reached around $426.4 million in September, has supported three sets of UN sanctions against the Islamic Republic over its nuclear program.
Contrary to Tehran's assertions that its nuclear activities are solely for the peaceful generation of electricity and for medical purposes, the West, spearheaded by the United States, has branded Iran's nuclear program as "suspicious."
The West has been pressuring Iran to accept a UN-backed draft deal which requires Iran to send most of its domestically produced low enriched uranium (LEU) abroad to be converted into more refined fuel for the Tehran reactor that produces medical isotopes.
Iran has however called for "concrete guarantees" as some Western countries have previously failed to adhere to their nuclear commitments with regards to Tehran.
Iran's nuclear program was launched in the 1950s with the help of the United States as part of the Atoms for Peace program.
The then US President, Gerald Ford, believed that the "introduction of nuclear power will both provide for the growing needs of Iran's economy and free the remaining oil reserves for export or conversion to petrochemicals."
After the 1979 Revolution which toppled Iran's US-backed monarch Mohammad Reza Pahlavi, the Western companies working on Iran's program refused to fulfill their obligations even though they had been paid in full.
Tehran and Paris had before 1979 signed a deal, under which France agreed to deliver 50 tons of uranium hexafluoride (UF6) to Iran, a promise which was never fulfilled.
Despite being a 10-percent shareholder and entitled to France's Eurodif output, Paris has refused to give any enriched uranium to Iran.
In January 1978, Germany's Kraftwerk Union, which according to a 1975 contract was obliged to complete Iran's Bushehr nuclear reactor, stopped working at the nuclear project with one reactor 50 percent and the other reactor 85 percent complete.