Europe
Germans march in support of refugees in Leipzig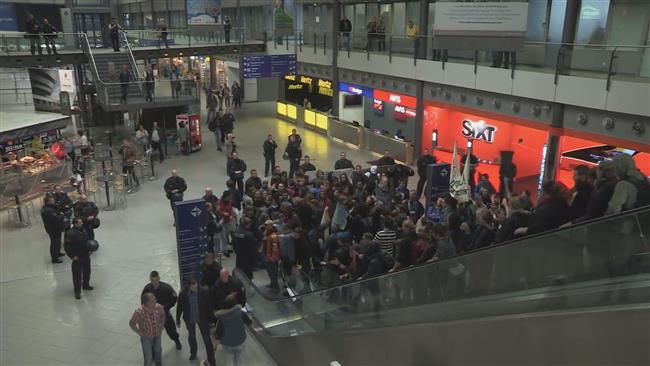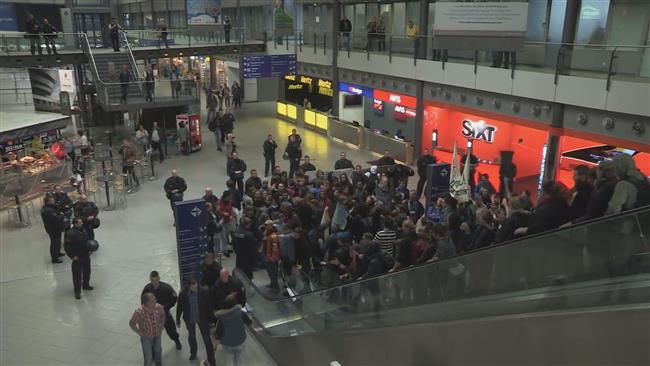 People in Germany have held a demonstration in the eastern city of Leipzig to express their solidarity with refugees and to denounce government plans to relax restrictions on deporting foreigners convicted of certain crimes.
Some 200 protesters, who were being escorted by police, marched through the Leipzig airport and to the city's main train station on Friday. The demonstrators shouted slogans while holding banners reading, "Solidarity for all," and "Our solidarity against their fear."
Back in January, the German government announced that new measures had been drafted allowing the deportation of refugees who are found guilty of crimes causing death or serious injury, sexual or physical assaults, or resisting law enforcement.
Under current laws, asylum seekers are only forcibly sent back if they have been sentenced to at least three years in prison and if their lives are not at risk in their home countries. The new measures were proposed following a string of sex attacks allegedly committed by asylum seekers in Cologne and other cities on New Year's Eve.
Germany had opened its borders to the many refugees who were fleeing conflict zones last summer with a welcoming mood but gradually shifted away from the policy as the economic and political weight of the massive inflow started to be felt.
The country has recently seen the rise of far-right groups opposing the entry of refugees. Extremist group LEGIDA, the offshoot in Leipzig of a broader German far-right movement, has staged several anti-refugee protests in the city over the past months.
Being one of the most popular destinations for refugees, Germany registered about 1.1 million of them in 2015.
The entire Europe is facing an unprecedented influx of refugees, most of whom are fleeing conflict zones in Africa and the Middle East, particularly Syria.
Many blame major European powers themselves for the unprecedented exodus, saying their policies have led to a surge in terrorism and war in the violence-wracked regions.
Over 194,600 refugees have reached Europe by sea so far this year, while 1,470 people died or went missing in their perilous journey to the continent, according to the latest figures by the International Organization of Migration (IOM).