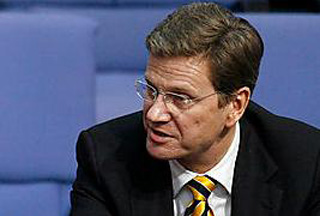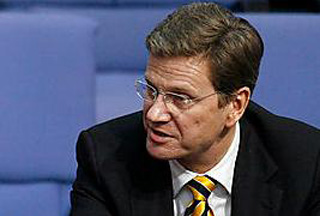 The German government has criticized the Israelis for a reported plan to separate and seal off the Gaza Strip from the rest of the Palestinian territories.
Germany remains committed to a "two-state" solution with the Gaza Strip and the West Bank as a unified Palestinian nation, German Foreign Minister Guido Westerwelle said on Saturday.
"In our view, that is not conducive politically for the process towards a long-term peace," he added.
Westerwelle made the remarks at a conference of the Organization for Security and Cooperation in Europe in the Kazakh capital Almaty, DPA news agency reported Saturday.
The German minister's stance came after an Israeli daily reported that Israeli Foreign Minister Avigdor Lieberman was considering a plan to seal off Gaza completely.
According to the report, Lieberman was also weighing the option of handing over some of the responsibilities for the Strip to Hamas authorities.
The article went on to say that based on Lieberman's initiative, the international community will monitor goods and people entering the coastal enclave, as well as its borders.
Israel occupied and annexed East al-Quds (Jerusalem) in 1967 and has labeled it as its "eternal indivisible capital" in a move never recognized by the international community.
In June 2007, Israel laid an economic siege on the Gaza Strip after Hamas took control of the coastal sliver.
Over 1.5 million Palestinians are living under the relentless Israeli blockade, which has now entered its fourth year.
The siege has caused a humanitarian disaster in the impoverished Gaza, where many have died due to food shortage and lack of medicine.