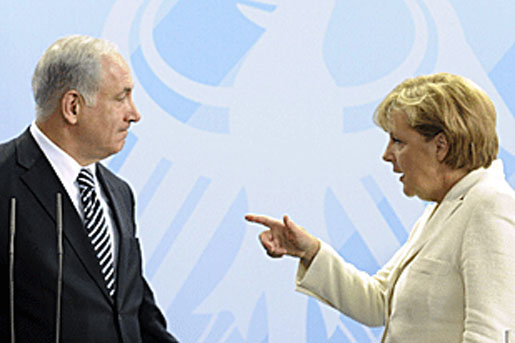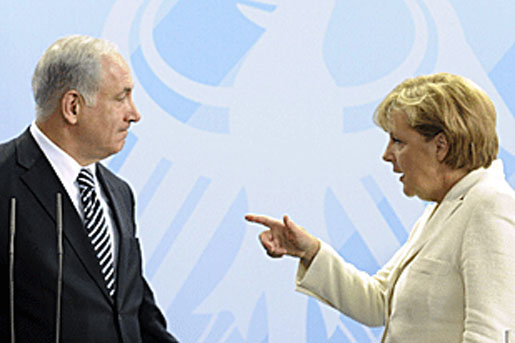 The Zionist Prime Minister Benjamin Netanyahu clashed with German Chancellor Angela Merkel Thursday over new Jewish settlements in the occupied territories.
On his visit to Germany, Netanyahu joined Merkel for a meeting between most of their cabinet ministers.
Merkel told reporters at a joint news conference that Germany, like other Western partners, hoped the Zionist entity would drop plans to build 3,000 settler homes on a strategic strip of occupied Palestinian land.
"On the question of settlements, we are agreed that we are not agreed," she said looking at Netanyahu.
For his part, Netanyahu insisted his settlements policy did not mark a radical new departure and merely picked up where other Zionist governments had left off.
"I think the root cause of the problem is not the settlements. I hope that we can engage at least part of the Palestinian people in a discussion about mutual co-existence, about mutual peace."
Netanyahu said the entity of occupation remained committed to a two-state solution with the Palestinians.
"Israel remains fully committed to achieving peace with the Palestinians based on the principle of two states for two peoples," he said.
Setting a bitter tone for the Merkel meeting, Netanyahu had told Thursday's German daily Die Welt that he was "disappointed" that Berlin had abstained from voting at the UN despite reported pleas by the Zionist entity to reject the Palestinian resolution.
But at Thursday's press conference, he repeatedly thanked Germany for unwavering support of the security of the usurping entity.
"I want to make it absolutely clear that I have no doubt whatsoever about your commitment to Jewish security and the well-being of the Jewish state," he said.
Merkel also repeated a call for a resumption of peace talks between the Zionists and the Palestinian state.