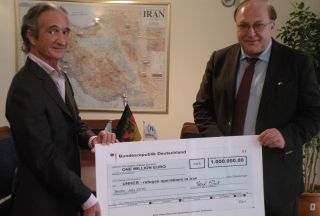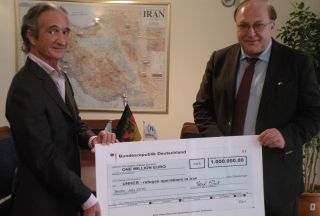 Germany has contributed EUR 1 million to a project by the United Nations, which aims to offer protection and assistance to refugees living in Iran.
Developed by the United Nations High Commissioner for Refugees (UNHCR), the project is meant to sustain humanitarian space for refugees and provide multisectoral humanitarian assistance in the areas of health, shelter, infrastructure and transportation.
"The main objective of this proposal is to assist registered Afghan and Iraqi Refugees in the Islamic Republic of Iran," UNHCR representative in Iran Carlos Zaccagnini said.
According to UN statement released on Monday, German Ambassador to Iran Bernd Erbel handed the money to UNHCR on July 19, 2010, in Tehran.
"This special purpose contribution is an addition to contributions by the European Commission, to which Germany too contributes as a member state," Erbel said.
According to a 2009 Afghan refugee registration carried out by the Iranian Interior Ministry's Bureau of Aliens and Foreign Immigrants Affairs (BAFIA), there are 1,036,212 registered Afghan refugees and 43,906 registered Iraqi refugees living in Iran.
"UNHCR will, in coordination with its GIRI counterparts implement the proposed activities, benefitting from this notable contribution, yet this will not suffice to cover all assessed needs of refugees and we therefore call for refugee project co-funding from other sources," added the UNHCR representative in Iran.