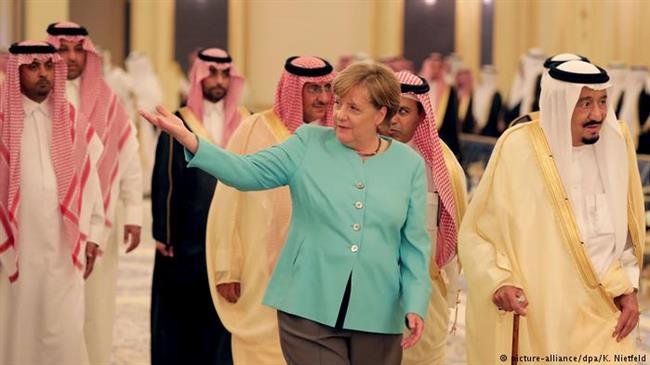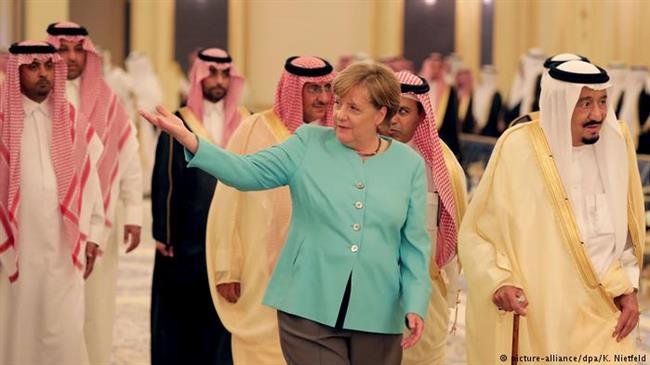 Despite a halt earlier announced by Chancellor Angela Merkel in condemnation of the murder of Saudi journalist Jamal Khashoggi, Germany is covertly exporting arms to Saudi Arabia and is even planning to resume overt sales soon, a report said.
The Merkel administration announced in October that it had suspended arms sales to Saudi Arabia until the Khashoggi case was "cleared up", and put the agreed deliveries on hold weeks later.
But an investigation by the Stern magazine together with the ARD broadcaster has revealed that the German arms company Rheinmetall has been selling weapons to Riyadh through its subsidiaries in Italy and South Africa despite the complete halt in exports ordered by the German chancellor after the murder of dissident Saudi journalist in Istanbul.
Rheinmetall, a corporation based in the western German city of Dusseldorf, has a subsidiary called RWM Italia, which builds bombs on the Italian island of Sardinia, a report by Deutsche Welle (DW) said.
Investigations have proved that in October 2016 a family of six, including a pregnant woman, was killed by a bomb produced by RWM Italia. There was, according to eyewitnesses, no military reason for the airstrike that was launched at three in the morning when the family was asleep in their house. DW has obtained a copy of the case report which calls the airstrike "a crime."
It is likely, activists told DW, that while prosecutors decide whether to investigate, RWM would continue exporting to Saudi Arabia. Indeed, DW has learnt, the bomb factory is planning to expand and has asked the local authorities for planning permission.
The German company has also sought a broad partnership with the struggling South African arms maker Denel, which would include acquisition of the company's minority stake in a joint venture Denel holds with German Rheinmetall: Rheinmetall Denel Munition (RDM).
RDM specializes in medium and large-caliber ammunition including artillery shells, and is reportedly fanning the flames of the Yemen war by selling weapons to the Saudi regime.
Rheinmetall board member Helmut Merch reportedly admitted in a conference call with bankers in mid-November that these two export channels were "not affected" by the ban.
However, in a meeting with investors earlier this year, the CEO of Rheinmetall, Armin Papperger, reportedly stressed that his company was not responsible for any business conducted by its subsidiaries.
This comes as Merkel's government boasted about its decision to halt arms exports to Saudi Arabia in October, citing human rights concerns, and calling on all European countries to follow suit.
Germany has called for a European ban on arms sales to Saudi Arabia over the killing of dissident journalist Jamal Khashoggi.
Berlin to resume overt arms exports to Saudi Arabia
In addition to the indirect German exports, Berlin reportedly plans to resume the lucrative business with the Arab kingdom within the coming weeks. The ban is reportedly limited to two months, and opposition politicians from the Left Party and the Greens told DW they are convinced it will soon be lifted.
"There is ample evidence that Saudi Arabia has long been exporting its ultra orthodox, intransigent interpretation of Islam across the globe and has stoked several regional conflicts," DW said.
However, the report added, "none of this seemed to duly bother Western officials until now."
Given its vast oil reserves, Saudi Arabia "can do whatever it wants. It has a free pass," Andrew Feinstein, a leading arms expert and executive director of Corruption Watch, told DW.
Germany, he said, had a restrictive arms exports policy "only when it suits Germany" — and in the case of Saudi Arabia, for many years, it clearly didn't.
"And, off the record, one official admitted that the German government is happy for other European countries to export weapons to Saudi Arabia, even if Germany's hands are bound by its decision to temporarily halt all exports," the report said, citing Berlin's concern about Riyadh's "stability" as the main reason for the continued arms exports.
Merkel's October announcement of the halt in arms exports to Riyadh came as her government had earlier ordered another ban on the weapons delivery to Saudi Arabia in January in an apparent reaction to the Saudi invasion of Yemen. However, it later went back on its decision by approving a 416 million euros worth of arms exports by September.
Germany has approved selling artillery positioning systems to Saudi Arabia, going back on a ban that the European country had ordered on the sale of weapons to the countries involved in the war on Yemen.
The approval turned Saudi Arabia into Germany's second-best arms customer after Algeria.
In October, the German government gave the green light for further exports to Saudi Arabia worth some €254 million.
DW has admitted that German-made and designed arms are still ending up in Yemen with or without the ban announced by Merkel.
Weapons continue to pour into the conflict that has pushed, as one Yemeni academic told DW, an already impoverished country firmly back "into the middle ages."
Saudi Arabia has become mired in the Yemen conflict after launching a war on the impoverished nation in 2015, which has put 14 million Yemenis on the brink of imminent famine.
Saudi Arabia also maintains a crippling blockade which has left entire cities in Yemen unable to find food and clean water.
Analysts say the Khashoggi killing was an opportunity to turn the spotlight on Saudi Arabia's broader policies, but the West is unlikely to hold the kingdom's feet to the fire at the cost of its lucrative arms deals.