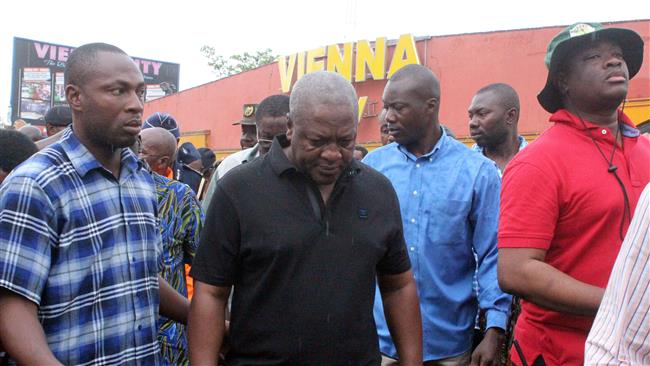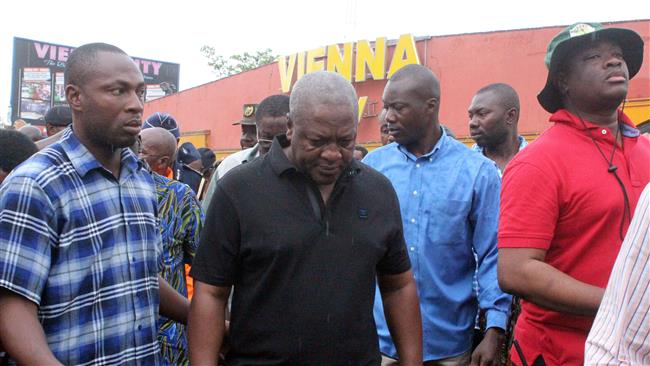 Ghanaian President John Dramani Mahama says the death toll from a huge blast in the capital city of Accra has risen to around 150.
Security and emergency services "have officially counted … about 150 deaths," said Mahama in a statement on Thursday night.
The statement came two days after a massive explosion rocked a gas station near the Kwame Nkrumah Circle in the central-southern part of the capital.
Mahama elaborated on the cause of the deadly incident, noting that heavy flooding was also a major factor in increasing the fatalities of the blast.
An oil leakage from the petrol station "caused an explosion that killed many people who had sought shelter there from the torrential downpour that had inundated the city," he added.
Billy Anaglate, a spokesman for Ghana's national fire service, confirmed Mahama's account of the explosion, saying the flood "caused the diesel and petrol to flow away from the gas station."
The Ghanaian president also vowed to adopt precautionary measures in a bid to prevent the repetition of such occurrences in the future.
"Our first priority now is to save lives and prevent any further suffering of our people but beyond that, we'll take the tough measures that are necessary to prevent such disasters from occurring in the future," he stressed.
Mahama further touched upon the disastrous impact of annual floods on life in Accra, saying that "the time has come for us to remove houses out of water and the public should understand that it is necessary to save everybody else."
Following the incident, the government announced three days of mourning due to start on Monday and also earmarked USD 12 million in funds to carry out the relief operations and also reconstruct the heavily damaged infrastructure at the site of the blast.