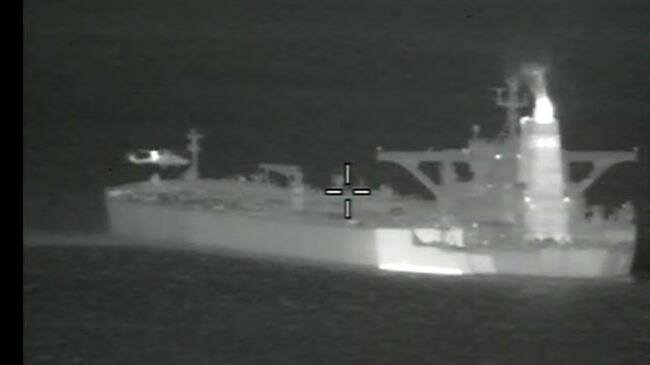 A top court in the British overseas territory of Gibraltar has ruled that an Iranian supertanker illegally seized in the Strait of Gibraltar can be detained for up to 14 more days.
"The Supreme Court has issued today's order on the basis that there are reasonable grounds to consider that the detention of the Grace 1 is required for the purposes of compliance with the European Union (EU) Regulation 36/2012 on sanctions on Syria," Gibraltar's government said in a statement on Friday.
Gibraltar Chief Minister Fabian Picardo said on Thursday that the territory's police and customs agencies, aided by a detachment of British Royal Marines, had seized the Iranian "Grace 1" vessel on suspicion of carrying crude oil to Syria, which has been under EU sanctions since 2011.
Earlier on Friday, the Associated Press reported that the vessel's 28 crew members were being held on the ship for questioning and had not been detained under criminal procedures, citing an unnamed spokesperson for the Gibraltar government.
Spain, which challenges the British ownership of Gibraltar, has said the seizure was prompted by a US request to Britain and appeared to have taken place in Spanish waters.
However, the British-claimed overseas territory rejected the claim on Friday, saying that Gibraltar had acted independently.
Gibraltar's position comes as a British Foreign Office spokesman had welcomed the move on Thursday, describing it as a "firm action by the Gibraltarian authorities, acting to enforce the EU Syria Sanctions regime."
US National Security Advisor John Bolton — an ardent hawk behind the White House's highly hostile Iran policy — has also praised the measure.
'Maritime Piracy'
Iran has condemned the move as "maritime piracy" and summoned Britain's ambassador in protest. It has vowed to employ all its political and legal capacities to secure the release of the vessel and uphold its rights.
On Friday, Secretary of Iran's Expediency Council Mohsen Rezaei called for the reciprocal seizure of a British oil tanker in case London refuses to release the vessel.
The seizure of the Iranian tanker comes as the US has pledged to reduce Iran's oil exports to "zero" as part of the sanctions that it has reinstated after leaving a multilateral 2015 nuclear deal with Iran last year.
Tensions have further escalated between the two countries when the US began to send military reinforcements and troops to the Middle East in early May, citing alleged "threats" from Iran.
Several oil tankers have also been targeted near the Persian Gulf region, with Washington and its ally Saudi Arabia quickly blaming Iran for the attacks.
Tehran has rejected any involvement, saying the incidents appear to be false flags meant to frame the Islamic Republic.