Saudi Arabia
Yemen
Global figures urge US, UK, France to stop fanning flames of Saudi war on Yemen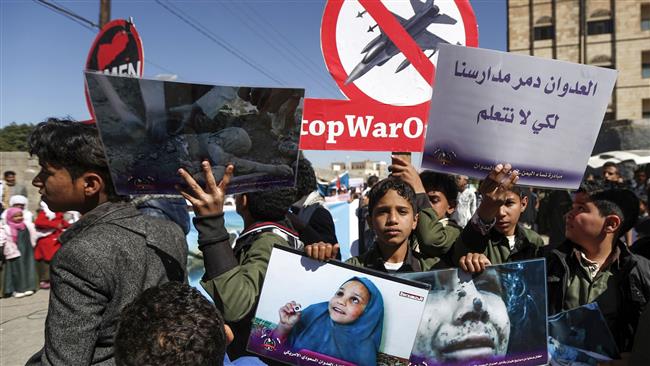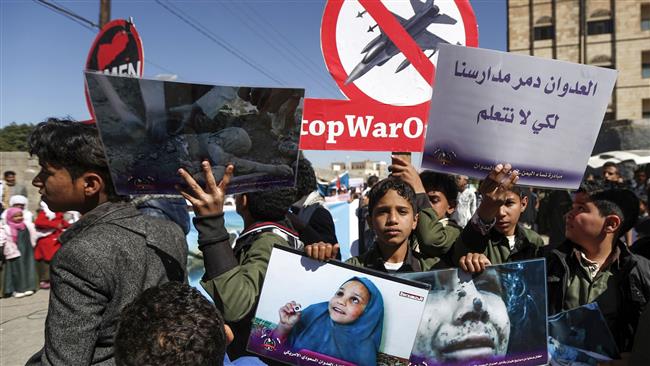 Over 350 high-profile global figures have urged the US, Britain and France, the three Western backers of Saudi Arabia's bloody offensive on Yemen, to use their UN Security Council seats and help ease the sufferings the Arab nation instead of fanning "the flames of war" there.
Nobel peace prize laureates, politicians, diplomats, former military generals, religious leaders and celebrities issued a statement addressed to US President Donald Trump, UK Prime Minister Theresa May and French President Emmanuel Macron on Tuesday.
The statement was marking 1,000th day since March 26, 2015, when the Saudi regime and a group of its vassal states unleashed a military campaign against Yemen, at a time the Arabian Peninsula state was grappling with an internal conflict.
The Saudi offensive was launched in support of Yemen's former Riyadh-friendly government and against the country's Houthi Ansarullah movement, which has been running state affairs in the absence of an effective administration.
"December 2017 marks 1000 days of a war that has turned the Middle East's poorest country into the world's largest humanitarian crisis, leaving Yemen ravaged by preventable diseases and on the verge of a historic famine," the statement read.
Yemen is "at a tipping point," it noted, criticizing the international community for failing to take action in order to bring an end to "the man-made catastrophe" there.
"The US, UK, and France, as permanent members of the UN Security Council and major weapons suppliers to Saudi Arabia and the United Arab Emirates, bear a special responsibility to use the full extent of their leverage to press their partners in the region to end the crisis. Instead of stoking the flames of a war that is strangling an entire population and risks destabilizing the entire region, they could be the brokers of peace," the statement read.
The three have been the biggest arms suppliers to the Saudi regime since the war on Yemen broke out, according to a report by the campaign group Control Arms in September.
Since the onset of the war, the Saudi-led coalition has imposed a naval and aerial blockade on Yemen under the pretext of blocking alleged arms supplies to the Houthi fighters. The siege, however, has caused severe shortages of food and medicine, endangering the lives of millions of aid-reliant Yemeni citizens.
The Western-backed offensive has, however, achieved neither of its goals as it has been met with stiff resistance by Ansarullah fighters and popular groups.
The statement further warned that the blockade "has made an already catastrophic situation worse. It has barred delivery of life-saving food, medicines and fuel, leading to hospitals shutting down, and whole cities without clean water or working sanitation."