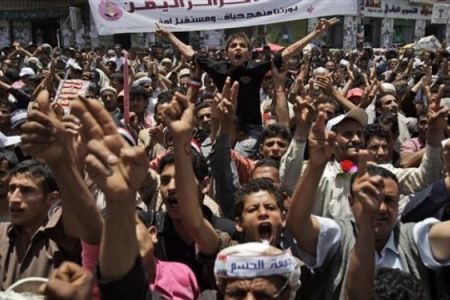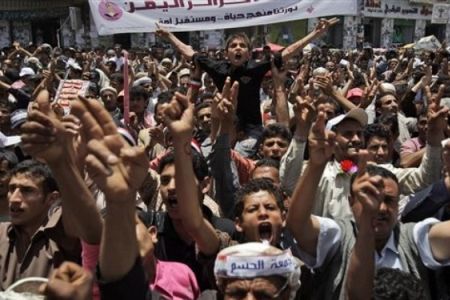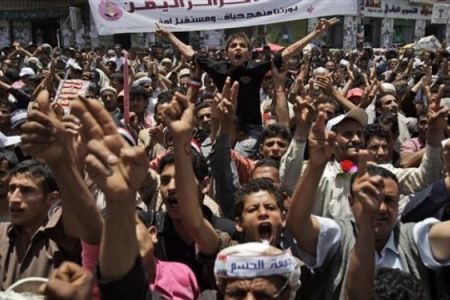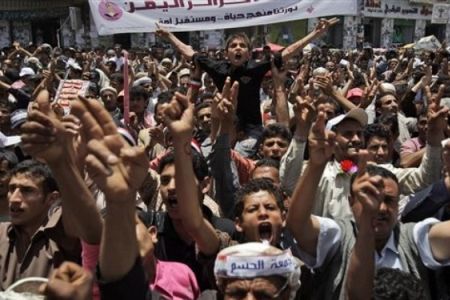 Yemeni anti-government protesters and army defectors have besieged several government buildings in the capital, Sana'a.
Witnesses say heavy clashes broke out between the Yemeni security forces, and defected soldiers and armed tribesmen supporting the opposition as anti-government protesters marched towards the district housing government buildings on Monday.
The Ministry of Industry and Trade, the ruling party's headquarters and the official Saba News Agency are reportedly besieged by protesters.
A security official speaking on condition of anonymity said several people were injured in the clashes without specifying how many or from which side.
The fighting came one day after Yemeni President Ali Abdullah Saleh refused to sign a power transition deal brokered by the [Persian] Gulf Cooperation Council that would have seen him cede power to his vice president within 30 days, in exchange for immunity from prosecution.
Since late January, hundreds of thousands of anti-regime protesters have been staging protest rallies across the country on a daily basis, demanding Saleh's immediate departure.
According to local reports, at least 300 protesters have been killed and many others have been injured during clashes with riot police and armed forces loyal to the embattled Yemeni president.