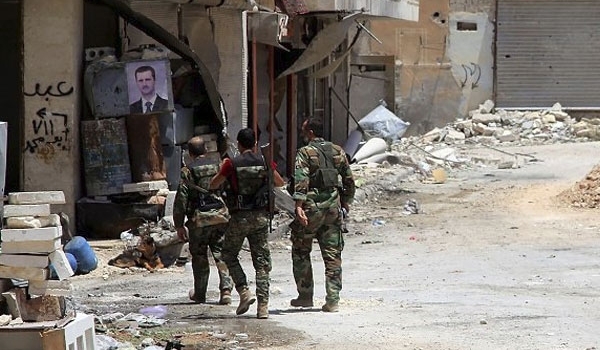 The Syrian Army troops stormed ISIL's positons in a besieged region among the provinces of Hama, Aleppo and Idlib, taking control over nine more villages on Wednesday.
The army men imposed control over the villages of al-Tarfawi, al-Marijab Shamali, al-Jadu'eiyeh Janoubi, al-Jadu'eiyeh Shamali, al-Baroudiyeh, al-Marami, al-Hamdaniyeh, Rasm al-Barjas al-Nasiriyeh and Abu Kahaf after a tough battle with ISIL terrorists trapped in a large region between the provinces of Hama, Aleppo and Idlib.
The army's engineering units started defusing bombs and landmines and the army units fortified their positions in the newly-freed villages.
Relevant reports said on Tuesday that the army men stormed ISIL's positions in Northeastern Hama and captured the villages of Sawanat al-Hamra, al-Naqroush, Talal Janoubi, Rajm al-Abil Sharqi and Rajm al-Abil Qabi.
The army forces further advanced against terrorists and freed the regions of Abu Darikheh, Tal Abu Darikheh, Um Aj, Um Abeh, Rasm al-Tawal, Rasm al-Tawal Sharqiyeh, Tawal al-Dabaqin, al-Mosleheh, Talijeh, Marijab Talijeh and al-Harash in Northeastern Hama.
A field source confirmed that the army has decreased the terrorist-held areas among the provinces of Hama, Idlib and Aleppo up to 900 sq-km after its recent advances.