Economy
Greece's unions to hold two-day strike over cuts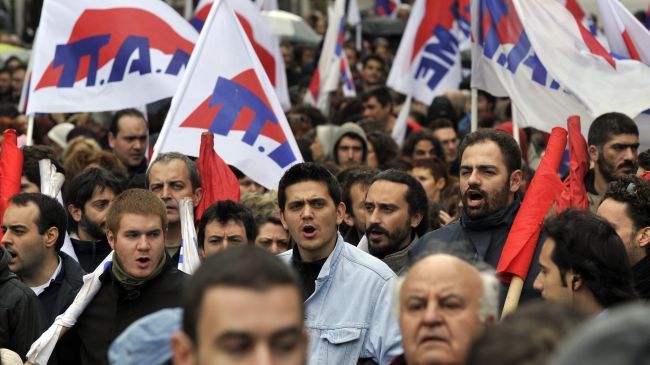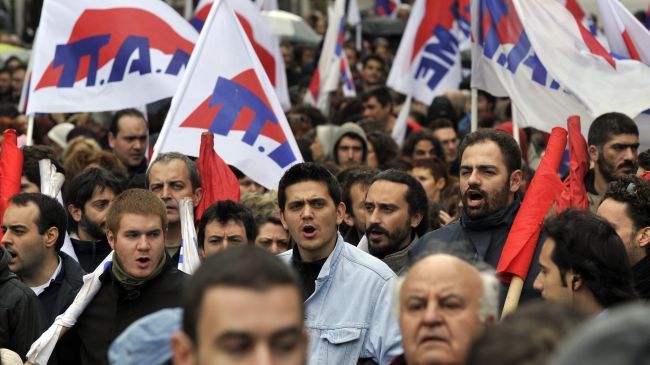 Greece's two largest unions have announced a 48-hour strike over the new austerity measures endorsed by the government in return for bailout loans.
The unions, General confederation of Workers of Greece (GSEE) and Civil Servants Supreme Administrative Council (ADEDY), announced on Thursday that their members will go on a two-day strike from Friday in protest at the controversial decision.
"We will hold a general strike on Friday and Saturday along with the civil servants' union," said a spokeswoman with GSEE which represents the private sector.
ADEDY's Secretary General Ilias Iliopoulos described the measures as "painful" which will "create misery for youths, unemployed and pensioners do not leave us much room."
"We are moving to a social uprising," said Iliopoulos.
Greece has been the scene of repeated strikes since the country first resorted to bailouts from international lenders in 2010.
Leaders of the three parties backing Greece's coalition government approved new austerity measures on Wednesday but failed to agree to creditors' demands to make 300 million euros ($398 million) in pension cuts.
The country's Prime Minister Lucas Papademos still hopes that the coalition leaders will strike a comprehensive deal by Thursday evening, his office said on Wednesday.
To secure a bailout package of 130 billion euros, Athens must first persuade the troika — the European Union (EU), International Monetary Fund (IMF), and the European Central Bank (ECB) — that it will implement long-delayed reforms and make further spending cuts.
Greece's current debt stands at 340 billion euros ($440 billion) — a sum that equals around 31,000 euros debt per person in the country of 11 million people.
The country has, accordingly, the biggest debt burden in proportion to the size of its economy in the entire 17-nation eurozone.