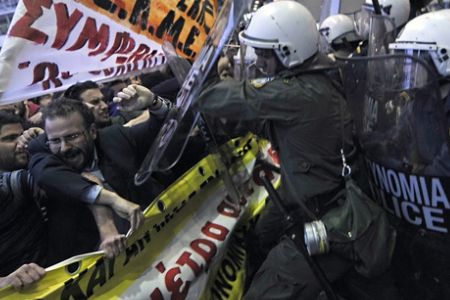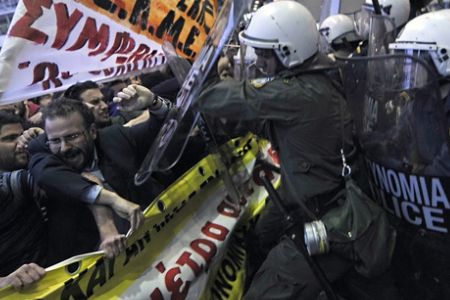 Hundreds of Greek contract workers have marched in the streets of Athens for a third consecutive week to protest against the government's plan to shed state-paid jobs.
Municipal workers, whose short-term contracts have been expired, staged a peaceful rally from Athens' City Hall to the Ministry of Interior on Tuesday, calling on Mayor Giorgos Kaminis to renew their contracts or to make their jobs permanent, the Associated Press reported on Tuesday.
Police stopped the demonstrators from reaching the ministry. The protest disrupted municipal services, especially garbage collection in the capital.
Aftershocks from tough fiscal austerity measures imposed by the debt-laden country following the financial breakdown in early 2010 continue to reverberate as the government proceeds with reducing public sector hiring to one new worker for every five who retire or quit.
The mayor, who has vowed to support workers' cause in talks with the government if the protests are over, is preparing to announce the short-term contract hiring of 800 new employees.
On March 28, a sit-in protest at City Hall was held for a second week after Mayor Kaminis failed to reach a compromise with the municipal workers striking for the renewal of their contacts.
Greece is one of the countries with the biggest budget deficit in the euro region, and the Greek government is cutting wages, and slashing benefits while unemployment is on the rise.
Greece has been the scene of unrelenting public protests since last year in the wake of the implementation of a set of belt-tightening austerity measures aimed at reducing the country's bloated budget deficit.
Greece's two largest unions, the General Confederation of Greek Workers and the Civil Servants' Confederation which represent more than half of the Greek work-force of 4.4 million people, are planning another rally against the austerity measures in Athens on Friday.