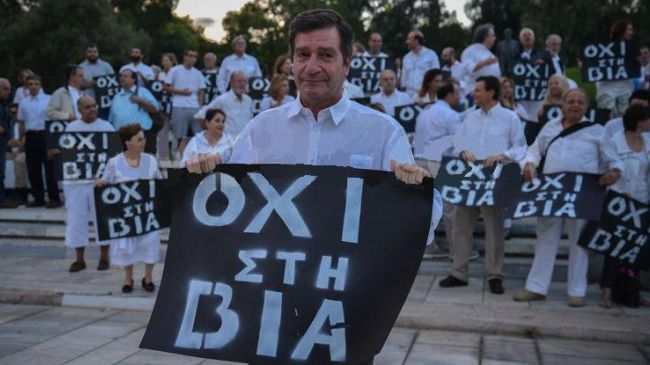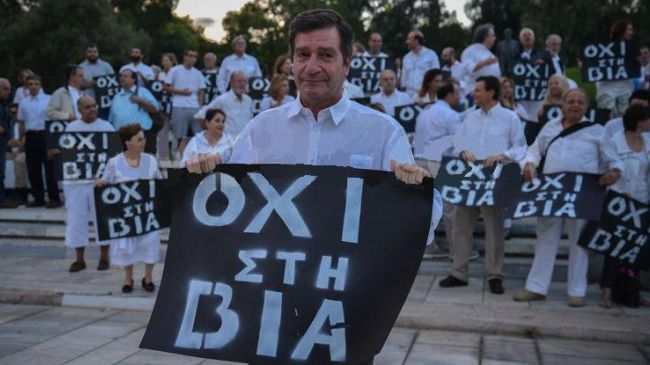 Greek people dressed in white have staged a silent protest in the capital Athens to condemn the recent surge in violence across the country.
White-draped activists holding placards gathered during the symbolic demonstration on Sunday, marking the latest in a chain of protests against fascism and the murder of a leftist musician last week.
On Saturday, a supporter of Greece's new-Nazi Golden Dawn Party was charged with manslaughter over the killing of 34-year-old hip-hop singer, Pavlos Fyssas.
George Roupakias, a 45-year-old truck driver, was charged on Saturday with voluntary manslaughter and illegal possession of a weapon as he appeared in court in Piraeus, a port city within the Athens urban area.
The killing sparked outrage among Greeks who have staged several protests against the fascist Golden Dawn Party since the attack took place.
Officials of the far-right party denied any links with the suspect, but pictures soon emerged of Roupakias participating in party activities such as the controversial distribution of food to ethnic Greeks only.
The Greek government has also reacted to the attack with Prime Minister Antonis Samaras saying he would not allow Golden Dawn to "poison" society and "undermine" democracy.
It has appealed to a Supreme Court prosecutor to investigate more than 30 offenses, which the government says are linked to the ultranationalist party.
Golden Dawn holds 18 seats in parliament after being elected in 2012 and has been accused of committing several attacks on migrants and political opponents, such as destroying the market stalls of several immigrant merchants.
The group became Greece's third most popular party at the height of the financial crisis after winning support, with free food handouts among poor Greeks and its fierce anti-immigrant rhetoric.