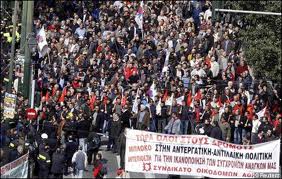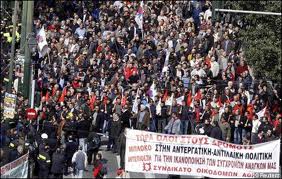 Thousands of anti-government demonstrators have staged a gathering in front of the parliament in Athens, to protest the government's new austerity measures.
Some 20,000 people attended the 19th consecutive day of anti-government demonstrations in Athens' central Syntagma square and said that they would form a human chain around the legislative chamber on Wednesday when officials are to meet to discuss a new round of austerity measures, AFP reported.
The demonstrators shouted "Thieves! Thieves! Thieves!" at the "corrupt politicians" and condemned the government's privatization plan and austerity measures.
The demonstrators also called for a general strike planned for Wednesday in response to the meeting that will be held on the same day.
The meeting on Wednesday will take place as Greece failed to meet its fiscal targets under the EUR 110 billion bailout package by the European Union and the International Monetary Fund. Therefore, the government seeks to introduce a new plan to raise taxes and reduce spending to avoid default.
The new austerity package will be worth over EUR 28 billion, and will include an additional EUR 6.4 billion in spending cuts.
"We need to plan beyond the general strike," one of the protesters said.
"There are many out there who are waiting for this mobilization to fizzle out."
The Greek demonstrators, however, have vowed not to give in.
"We will stay on the squares until those who created today's impasse leave and do not return under another guise," a demonstrator said.
Since last year, Greece has witnessed massive anti-government protests which turned violent at times and left scores of protesters and security forces dead or injured.
Earlier this month, the anti-government demonstrators took over the finance ministry building in Athens.
A poll conducted last month, found that Greeks no longer have confidence their government can pull the country out of their national debt.