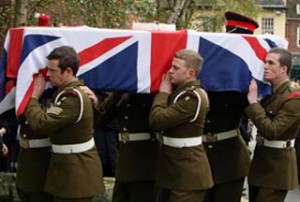 A grenade has claimed the life of another British soldier in southern Afghanistan as the number of casualties for foreign forces continues to mount there.
The soldier from the Household Cavalry Regiment was on foot patrol near Sangin in Helmand Province when the grenade was lobbed at him on Friday afternoon, the British Ministry of Defense said.
The soldier's death was not linked to 'Operation Moshtarak', an offensive aimed at eliminating major Taliban presence and influence in Helmand.
The number of British soldiers killed so far this year in Afghanistan has reached 32, bringing the UK military death toll from the beginning of the war to 277.
Britain has about 10,000 troops in Afghanistan, mostly stationed in the South.
Since the US-led invasion of Afghanistan in 2001, tens of thousands of Afghan civilians have been killed by Western troops along with Taliban and al-Qaeda militants.
In fact, most of the casualties have been innocent civilians.