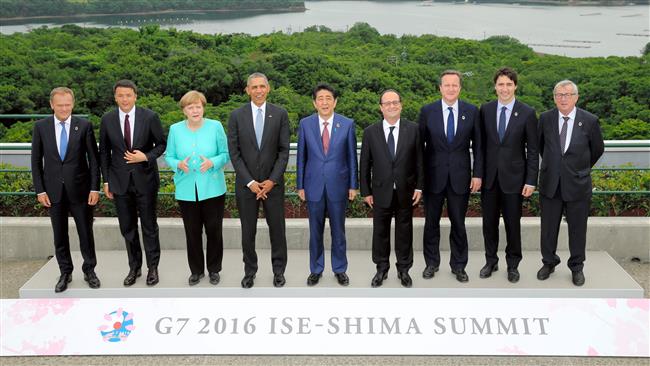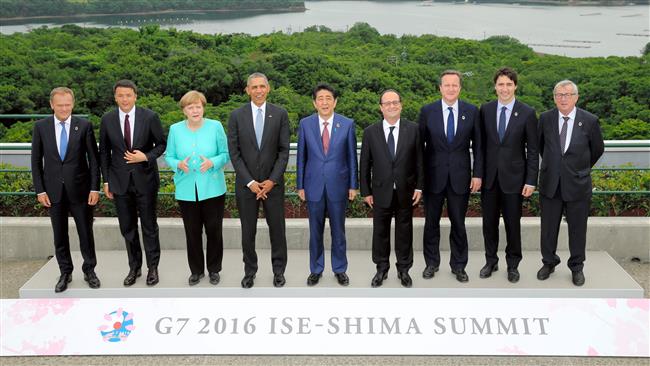 Leaders of the Group of Seven (G7) industrialized countries have kicked off the 42nd summit of the group in Japan, where they will be discussing an array of topics including controversial maritime issues in the South China Sea.
Leaders of Britain, Canada, France, Germany, Italy, Japan and the United States on Thursday began the two-day summit in the city of Ise in central Japan.
A sensitive topic of discussion at the summit will be China's claims over the South China Sea, which has become a source of tension between China, the US, and some other regional countries also laying claims to areas in the sea.
A set of disputed islands in the South China Sea are claimed, among other countries, by Vietnam, the Philippines, Malaysia, and Brunei, which all have overlapping claims with China.
European Council President Donald Tusk said on the sidelines of the summit, "The policy of the G7 is clear: any maritime or territorial claim should be based on international law and any territorial dispute should be resolved by peaceful means."
"Unilateral action and the use of force or coercion will not be accepted," he said.
Beijing has long said that intervention in the affairs of the region by extra-regional countries only serves to aggravate tensions.
The G7 summit is expected to focus on economy, trade, foreign policy and climate change as wella s energy. Leaders will also discuss the fight on terrorism and Europe's refugee crisis.