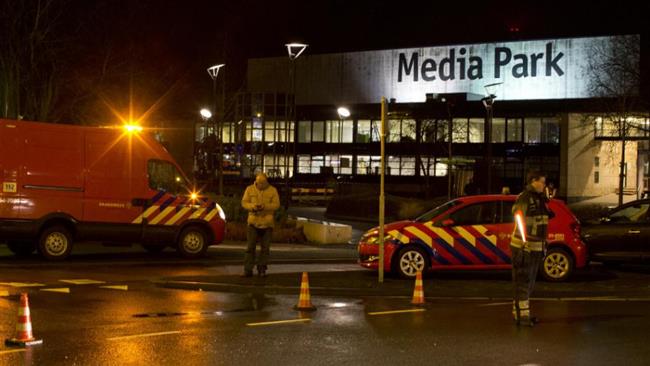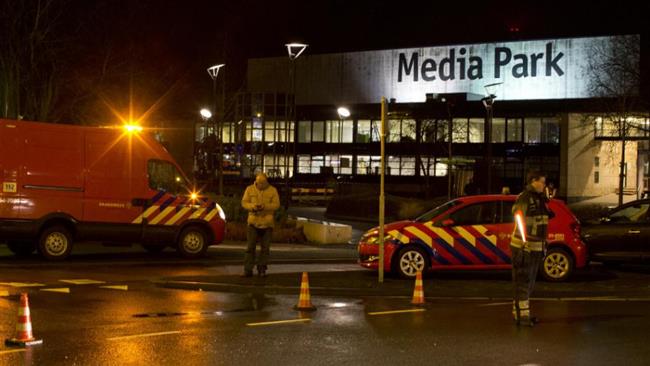 An armed man has interrupted the programs of Dutch public broadcaster the Nederlandse Omroep Stichting (NOS) after entering the headquarters of the television network outside the capital, Amsterdam, demanding airtime.
The 19-year-old man, who was carrying a pistol, entered the NOS building in the central city of Hilversum, located about 20 kilometers (12 miles) east of Amsterdam, shortly before 8 p.m. local time (1900 GMT) on Thursday.
Police said in a statement that the assailant demanded airtime, and threatened that bombs would go off across the Netherlands if his demand was not met.
The broadcaster was off the air for just over an hour, and the evening edition of its newscast was not broadcast. A message appearing on the screens told viewers that no broadcast was "available at this time."
The gunman, however, immediately surrendered when five police officers raided the NOS building to restrain him. Nobody was injured and there were no reports of shots being fired.
The NOS broadcast a video of the incident before the police raid when it came back on air. The gunman could be seen in a studio calmly talking to another man off screen.
In the video, he could be heard telling the other man that he "wanted to talk about things that are of world importance."
"We were hired by intelligence services. We have heard things that call society into question," he said. "Once my message has been sent, we'll shake hands and you'll be able to go home."
The NOS reported on its website that the attacker had a silencer on the pistol and terrorized a security guard, forcing him to take him upstairs to the editorial offices.
NOS Director Jan de Jong said the broadcaster's headquarters had beefed up security in the aftermath of the January 7 attack on French weekly Charlie Hebdo, which left 12 people dead in Paris.
Al-Qaeda in the Arabian Peninsula (AQAP), which is based in Yemen, claimed responsibility for the attack on Charlie Hebdo.