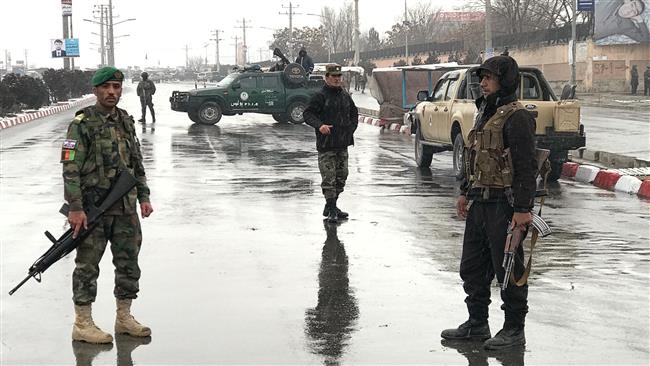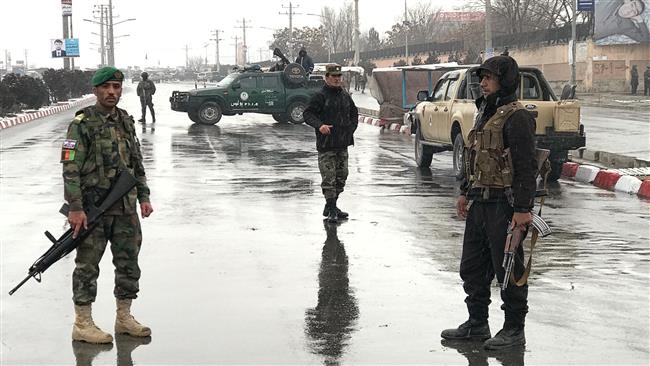 Gunmen have launched a pre-dawn attack on an army outpost guarding a military academy in the Afghan capital, Kabul, engaging in heavy clashes with security forces there.
The assault began at around 4 a.m. local time on Monday when a bomber detonated his explosives outside the army post to pave the way for other attacker to reach the Marshal Fahim military academy.
A gunfight broke out when security forces tried to respond to the attack.
Afghan Defense Ministry officials said at least 11 soldiers were killed and 15 others wounded in the clashes.
According to the officials, two attackers were killed and a third was detained. A search is under way for another possible assailant.
The Daesh terror group, which has a foothold in Afghanistan's east and north, claimed responsibility.
The latest instance of violence comes as Kabul is still reeling from a car bomb attack, which hit near foreign embassies and government buildings on Saturday and left over 100 dead.
A large explosion has struck close to foreign diplomatic missions and government buildings in the Afghan capital.
That attack was claimed by the local Taliban militant group.
Both Daesh and Taliban have stepped up their assaults against Afghan civilians and security personnel in recent months.
Many parts of Afghanistan remain plagued by militancy despite the presence of thousands of foreign troops.
The United States — under Republican George W. Bush's presidency — and its allies invaded Afghanistan on October 7, 2001 as part of Washington's so-called war on terror.
The offensive removed the Taliban from power, but insecurity continues to rise across Afghanistan.