Saudi Arabia
Hackers take over website for Saudi investment conference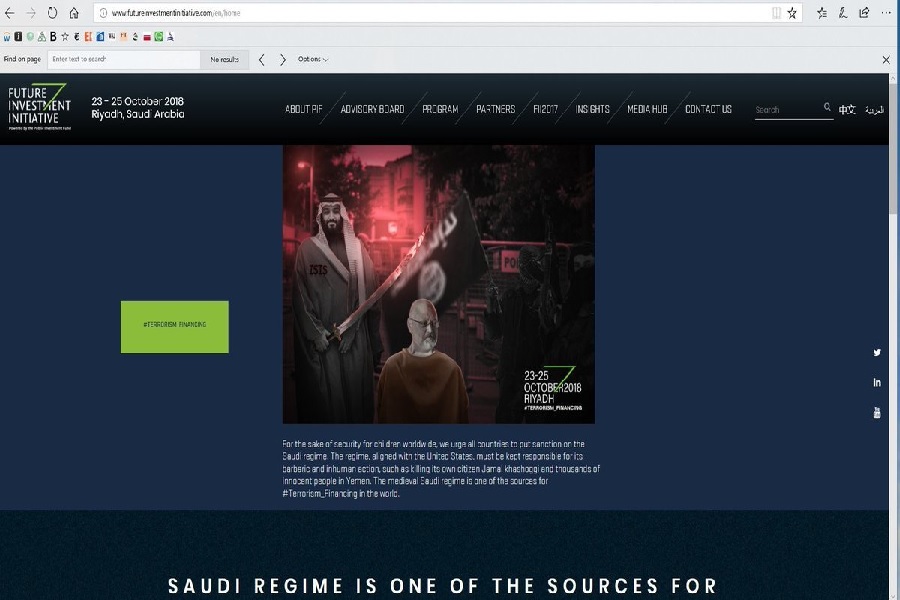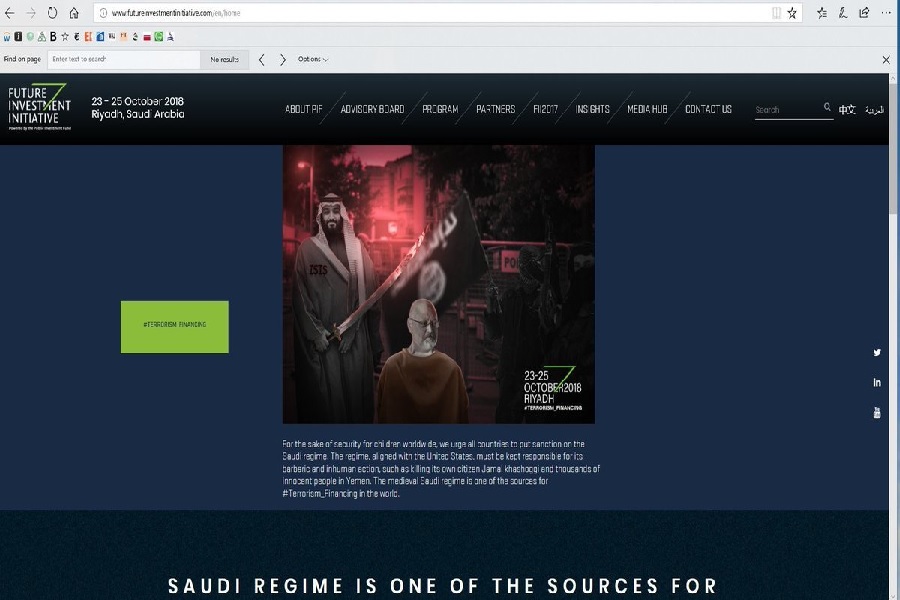 The website for Saudi investment conference known as 'the Future Investment Initiative' appeared to have been hacked early on Monday morning.
'The Saudi regime is one of the sources for #terrorism_financing in the world' a message on the website read. '17+ supported terrorist groups,' '40,000+ killed in Yemen,' '89,000+ Syrian civilians killed,' the message continued, according to Sputnik news agency.
Below, under the 'latest news' section, another message read: 'Exposing a thousand terrorists and spies of the Saudi regime who perform malicious activities around the globe. You can download 1000+ leaked spies personal data from link below.'
The Future Investment Initiative, sometimes referred to as "Davos in the Desert," usually brings high rollers from all over the globe and is hosted by none other than the kingdom's crown prince himself, Mohammad bin Salman.
But since the killing of Saudi national and Washington Post columnist Jamal Khashoggi, the forum has had a number of high-profile guests withdraw, among them: JPMorgan CEO Jamie Dimon, HSBC CEO John Flint, Blackrock CEO Larry Fink, Uber CEO Dara Khosrowshahi, US Treasury Secretary Steven Mnuchin and IMF Managing Director Christine Lagarde.
And just one day before the event, it doesn't appear that the organizers have been able to handle the boycott that came so close to its scheduled start date. The 'program' tab on the website reads: 'The detailed program will be released shortly.'
The crown prince has used the event in years prior as a platform from which to pitch tech and business leaders on his Vision 2030 plan, which aims to diversify Saudi Arabia's economy to make it less dependent on oil exports.
The most widely-shared edit to the investment forum's website was an image of bin Salman with 'ISIS' emblazoned on his clothes, standing alongside two men, one of whom carries an assault rifle and another a Daesh flag. Bin Salman holds a sword above Khashoggi's head as though he's about to, well, hack the journalist to bits.
'For the sake of security for children worldwide, we urge all countries to put sanction on the Saudi regime,' a message under that image read, calling the killing of Khashoggi 'barbaric,' the House of Saud 'medieval' and bemoaning the slaughter of 'thousands of innocent people in Yemen.'
The website was taken offline after the apparent hack and eventually restored.