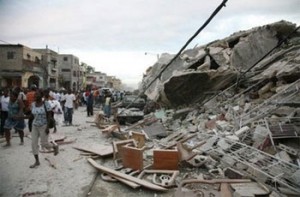 Haitian government officials say the death toll from Tuesday's 7.0 magnitude earthquake may surpass 100,000.
The nation's capital, Port au Prince, is currently without water and electricity. The country is in dire need of trained rescue workers as well as vehicles to clear the debris from collapsed buildings and other structures.
People are manually digging through the rubble in search of survivors and bodies.
Haitian President Rene Preval has appealed to the international community for medical help and assistance in clearing up streets in the demolished capital.
"We need medicine. We need medical help in general," Preval told CNN. "Some of the hospitals, they collapsed."
Haiti's Consul-General to the US, Felix Augustin, said he believed more than 100,000 people are dead in Port au Prince which "is flattened" by the devastating quake.
The epicenter of the earthquake was located 15 kilometers southwest of the capital and could be strongly felt 200 miles away in eastern Cuba, US Geological Survey reported.
A professor of geophysics in the Earth Sciences Department at Durham University in England, Roger Searle, said the combination of the quake's magnitude and geographical shallowness of the region gave it the impact of several nuclear bombs.
"The most important thing you can do is not to send those supplies, but to send cash" to relief agencies, said UN's Special Envoy to Haiti, Bill Clinton.
China has sent rescue teams, Cuban doctors on their way to treat the injured, Spain has dedicated 4.35 million USD, and Russia is sending a field hospital while France and Iceland are sending aid flights.
The Red Cross reported that one-third of Haiti's population of about 3 million people was affected by the earthquake.