World News
Haiti's official death toll rises to 230,000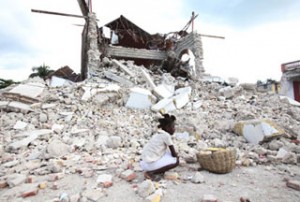 Haiti's government has raised the death toll figure from last month's massive earthquake that destroyed much of its capital to at least 230,000.
Previous reports had put the toll at 212,000, but four weeks after the 7.0 magnitude quake leveled much of Port-au-Prince and surrounding towns, more bodies have been pulled out of the rubble.
However, Communications Minister Marie-Laurence Jocelyn Lassegue said Tuesday that the new figures were still not definitive.
She also said that the newest tally did not include bodies buried by private funeral homes in private cemeteries or the dead buried by their own families.
This is while Haiti's Prime Minister Jean-Max Bellerive admitted that the Haitian government still did not have a clear plan to relocate the displaced.
"We are still in a very difficult situation," Bellerive told the Reuters News Agency on Tuesday. "We still don't have a clear vision of certain problems."
He also added that it could take at least three or four years to return Haiti to its pre-quake state and up to 10 years to rebuild the 250,000 houses destroyed by the quake.
Meanwhile, at an emergency meeting of the Union of South American Nations (UNASUR) in the Ecuadorian capital Quito, leaders pledged $300 million in aid for Haiti.
The summit also urged all international players in Haiti to conduct themselves with "absolute respect for [Haitian] national sovereignty and the principle of non-intervention in internal affairs."
The Quito meeting was specifically pointing to the United States deployment of up 20,000 troops to Haiti with plans to maintain a long-term presence in the country.
The January 12 tremor has left an estimated one million people displaced in the impoverished Caribbean nation, where food and water distribution, shelter, and medical support remain major problems.
A generous world has flooded Haiti with donations, but anger and desperation are mounting as the aid stacks up inside the broken country with very inefficient distribution efforts.
This has led to daily demonstrations across the wracked capital, where Haitians warily await more misery ahead of the upcoming rainy season.